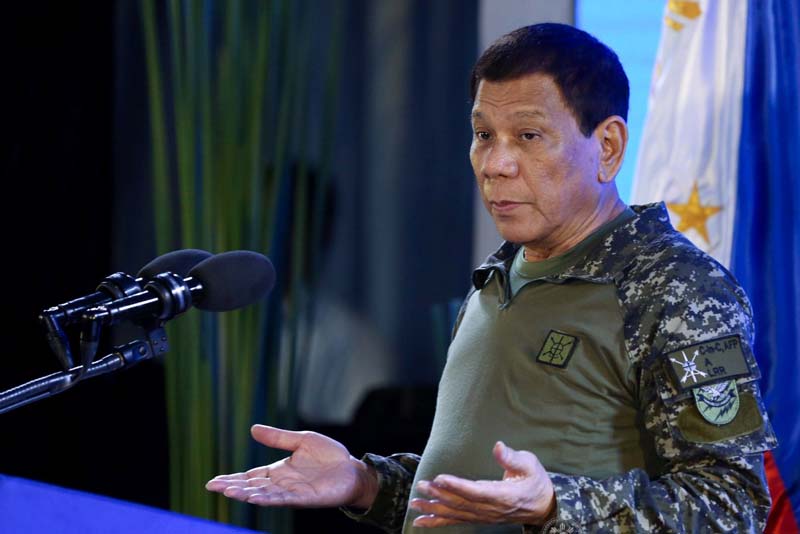 In a press conference, presidential spokesperson Harry Roque said President Rodrigo Duterte "stands by" the Department of Health's recommendation to hold Sanofi responsible for the mess that prompted Congressional probe into the dengue immunization drive. RICHARD MADELO/PRESIDENTIAL PHOTO
Duterte to hold Sanofi Pasteur liable for Dengvaxia mess
(Philstar.com) - December 12, 2017 - 8:45am
MANILA, Philippines — President Rodrigo Duterte backs the Department of Health's proposal to hold French pharmaceutical giant Sanofi Pasteur liable for the medical crisis triggered by the drug company's landmark dengue vaccine, Malacañang said Tuesday.
The DOH early this month suspended the vaccination program after Sanofi disclosed that its world-first dengue vaccine Dengvaxia could worsen the disease among those not previously infected by the virus.
The government had also announced it will demand a refund of 3.5 billion pesos from the vaccine maker and will also seek compensation for treatment of children who may develop severe dengue.
READ: DOH forms task force on Dengvaxia dengue vaccine | Philippines wants money back from Sanofi for dengue vaccine
In a press conference, presidential spokesperson Harry Roque said Duterte "stands by" the DOH's recommendation to hold Sanofi responsible for the mess that prompted Congressional probe into the dengue immunization drive.
"Well, the President is awaiting results of the investigation. And he has promised that after investigation... he will run after all individuals who may have criminal culpability for this," Roque said.
The Philippines is one of five countries that licensed Dengvaxia. The others are Mexico, Brazil, El Salvador and Paraguay.
In 2016, the DOH launched the dengue vaccination initiative in Regions III, IV-A and National Capital Region — regions with high numbers of dengue cases.
More than 730,000 public school children aged 9 and above in these regions received at least the first dose of Dengvaxia.
According to Heath Secretary Francisco Duque III, at least one 12-year-old from northern Tarlac province developed dengue after being immunized but has already recovered. He did not say if Dengvaxia caused the infection although Sanofi officials have said the vaccine itself does not cause infection.
Another possible dengue case is being investigated, he said.
Sanofi initially claimed that the vaccine was safe and effective for all people aged 9 to 45, but later acknowledged that it "is not recommended for people who have had no prior dengue infection" due to the risk of a severe case, Duque said.
According to Dr. Anthony Leachon, former member of the DOH's expert panel on Dengue, health advocates and experts had cautioned former Health Secretary Janette Garin over the safety of Dengvaxia but their warnings were ignored.
"When you launch a product, it will be exposed to about 10,000 to 20,000 kids and doctors will supervise so they can report side effects," he said, noting it usually takes three years to prepare a community for a new vaccine.
"[But they proceeded with] mass vaccination. Safety issues were alerted by health advocates and scientists in the country but you ignored that," Leachon said.
READ: Red flags on Dengvaxia ignored, health reform advocate says