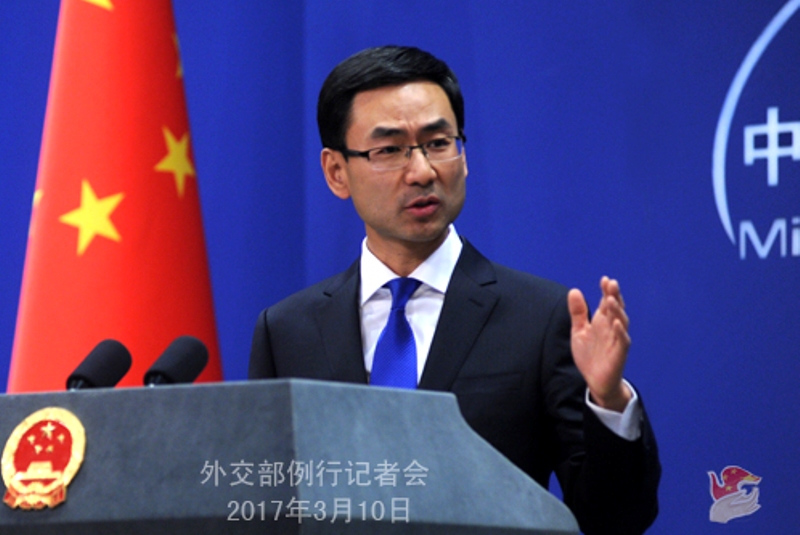 Chinese Foreign Ministry spokesperson Geng Shuang holds a press briefing in Beijing. FMPRC/Released
China 'gravely concerned' after Philippines inks investment deal with Taiwan
(Philstar.com) - December 9, 2017 - 9:55am
MANILA, Philippines — China on Friday expressed "grave concern" over the recent signing of an investment protection agreement between the Philippines and Taiwan, a self-ruled island that China considers a breakaway province with no right to establish diplomatic ties.
According to reports, Taiwan sent a representative to the Philippines to sign the deal on December 7 as part of Taipei's "New Southbound Policy," which aims to forge closer ties with South and Southeast Asia in order to diversify the island's economy.
Sought for comment, Chinese foreign ministry spokesman Geng Shuang said that while China doesn't object to the conduct of normal economic and trade exchanges between Taiwan and countries with diplomatic relations with China, Beijing 'firmly opposes' the signing of any cooperation document with Taipei.
Geng added that China hopes that the Philippines will abide by the "one-China principle" and avoid having the Taiwan-related issue "undermine the larger picture of China-Philippines relations."
"We express grave concern over the signing of the investment protection agreement and other cooperation documents that are obviously official in character between the relevant Philippine authority and the Taiwan authority," Geng told a press conference.
"China has lodged representation with the Philippine side," he added.
The People's Republic of China claims Taiwan as part of its territory. But Taiwan, known officially as Republic of China, regards itself as an independent sovereign state.
The Philippines has been observing a One-China policy since 1975. Under the policy, the Philippines recognizes the communist People's Republic of China and cannot put up an embassy in Taiwan.
The Philippines, however, has trade, cultural and people-to-people exchanges with Taiwan.
Meanwhile, ties between Manila and Beijing, which had soured over the South China Sea dispute, had greatly improved under Philippine President Rodrigo Duterte.
Duterte has set aside his country's legally won entitlements over the resource-rich waters in exchange for billion dollars' worth of Chinese aid and investment.