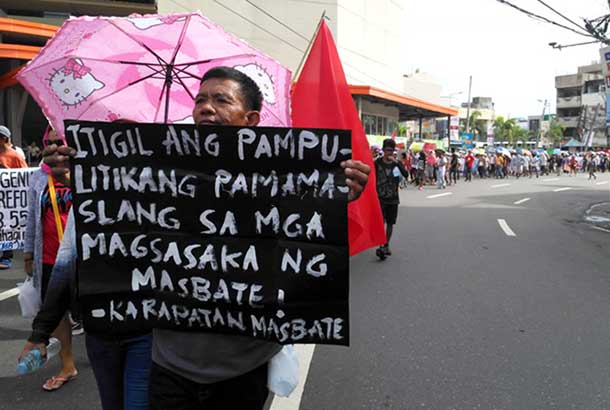 Masbate farmers joined Kilusang Magbubukid ng Pilipinas (Peasant Movement of the Philippines) members from around the country in calling for a stop to extrajudicial killings of farmers, in a protest action in Legazpi City, Albay last July 14. VERA Files, Ilang-Ilang Quijano, file
Karapatan kicks off protests for International Human Rights Day
MANILA, Philippines — Rights group Karapatan on Saturday held a rally in Mendiola, Manila to protest policies of the Duterte administraton that they described as "recipes" for a "full-blown dictatorship".
Karapatan secretary general Cristina Palabay called President Rodrigo Duterte a "wannabe dictator" and said "his recipes, composed of fascist policies such as the drug war campaign, counter-insurgency program Oplan Kapayapaan, and martial law in Mindanao, have choked the Filipino people."
The group staged a mock cooking showing to depict how the president is supposedly concocting a dictatorship.
"Blood is spewn by ordinary citizens as the Duterte regime and his State security forces prepares and forcefully shoves poison down people's throats," Palabay said.
Karapatan had earlier said that from July 2016 to October 2017, it has documented 104 victims of extrajudicial killings under Duterte's counter-insurgency program. The group said this is on top of more than 7,000 EJK cases in connection with the administration's war on drugs.
The government only acknowledges a little more than 3,900 deaths in anti-drug operations. Other deaths have been blamed on vigilantes and on gang rivalries.
"There is widespread condemnation against the intensifying fascist attacks that the Duterte regime and his State forces have instigated. Recent pronouncements by Duterte, including threats to arrest progressive organizations and foisting the anti-terror law to charge activists, have further escalated the violations," Palabay said.
Duterte has said in recent speeches that he has ordered the police and military to shoot armed members of the communist group New People's Army. The President has also signed a proclamation declaring the Communist Party of the Philippines and the NPA as terrorist groups.
A court decision is needed to make the declaration official under the Human Security Act.
Protests in Manila, provinces
Palabay said their protest rally on Saturday is just a prelude to bigger demonstrations on Sunday, December 10, in celebration of Human Rights Day.
Movement Against Tyranny, of which Karapatan is part, and other groups are set to stage protest rallies in various areas in Manila. The rallies will culminate in a torch march from Bonifacio Shrine to Mendiola at 6 p.m.
Karapatan said protests will also be held in the provinces especially in Aklan, Capiz, Iloilo and in the Bicol region.
The group said provinces in Ilocos Region and Central Luzon are also set to hold protest rallies while Cordillera-based organizations will hold a human chain at Session Road in Baguio City.
Karapatan said various organizations in at least 11 areas including Japan, Hong Kong, South Korea, Canada, Australia, US, Italy, Belgium, France, Germany and the Netherlands are also set to hold activities to protest the human rights situation in the Philippines.
Meanwhile, international organization Human Rights Watch announced on its website that it has arranged for 24 landmarks across the globe including the Empire State Building in New York City to shine bright blue on December 10 in celebration of Human Rights Day.
"This is a crucial time to spotlight the universal principles and values of the human rights movement," HRW executive director Kenneth Roth said.
"When basic freedoms are under threat, this global expression of solidarity is an act of defiance, a call to action to oppose those who want to turn back the clock on human rights," he added.
Since 2013, the New York City's Empire State Building – home to the HRW global headquarters – has lit its spire in blue lights to commemorate Human Rights Day.
Aside from the Empire State, the following buildings will shine blue on December 10:
The Freedom Tower at Miami Dade College in Miami, Florida
San Francisco City Hall in San Francisco, California
3D Toronto Sign at Nathan Phillips Square in Toronto, Canada
CN Tower in Toronto
Jet d'Eau in Geneva, Switzerland
National Museum of Beirut in Lebanon
Sydney Opera House in Australia
Paulskirche in Frankfurt, Germany
BC Place in Vancouver, Canada
Taipei 101 and 12 surrounding buildings in Taipei, Taiwan.