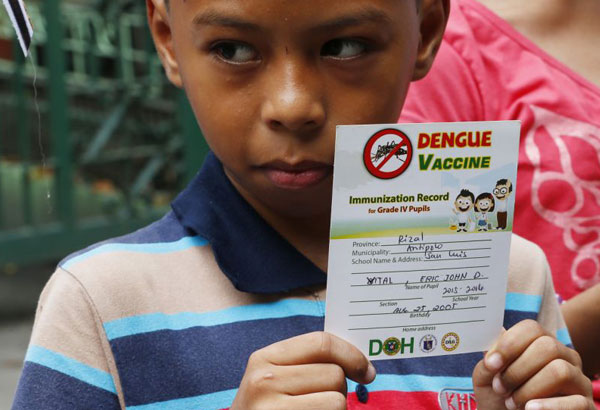 Eric John Vital, 12, holds his vaccination record as he joins other protesters at a rally outside the Department of Health to demand accountability to government officials involved in the controversial immunization of the anti-dengue vaccine Dengvaxia to more than 700,000 Filipino children Friday, Dec. 8, 2017 in Manila, Philippines. The controversial vaccine, manufactured by Sanofi Pasteur was put on hold by the Philippines last week after new study findings showed it posed risks of severe cases in people without previous infection. The controversy has prompted the Philippine Senate to conduct an investigation. (AP Photo/Bullit Marquez)
Former DOH chief Garin admits meeting Sanofi execs in 2015
(Philstar.com) - December 9, 2017 - 3:35am
MANILA, Philippines — Former Health Secretary Janette Garin on Friday admitted she met with officials of French pharmaceutical giant Sanofi Pasteur in 2015 to discuss dengue vaccine Dengvaxia despite earlier denials amid a medical crisis sparked by risks posed by the vaccine.
The Department of Health last week suspended the vaccination program after Sanofi disclosed that its world-first vaccine for the potentially deadly dengue virus could worsen the disease among those not previously infected by the virus.
In an interview with ANC, Garin confirmed she sat down with Sanofi executives in Paris in 2015, but stressed there was no malice in the meeting.
The former Health chief had acknowledged flying to Paris two years ago, but earlier denied claims she dined with representatives from Sanofi to talk about Dengvaxia.
"Tama po 'yun, nagkamali po talaga ako kasi (I really made a mistake because) I was being asked on a dinner that happened two years ago," Garin said.
"Kung may malisya 'yun, bakit mayroon tayong kasamahan from DFA (If there was malice in that meeting, how come there was someone there from the Department of Foreign Affairs)?" she added.
Asked if the price of the vaccines was discussed during the meeting, Garin nodded and said different stakeholders such as doctors and the DOH itself had been keen on the revolutionary vaccination program.
She also said talks on the planned dengue vaccination program had started as early as 2010 during the term of her predecessor Dr. Enrique Ona.
'Yung una po kasi talagang intensyon eh lalabas po ba 'yung bakuna? Kailan ba? Magkano ba talaga presyo? (Would the vaccine be released? When? How much?)" she said.
"Precisely, si Secretary Ona, 2014 pa lang, nagtatanong siya, magkano ba, iimplement namin yan, pero wala pang presyo (Secretary Ona was asking about the price)," she continued.
The Philippines is one of five countries that licensed Dengvaxia. The others are Mexico, Brazil, El Salvador and Paraguay.
In 2016, the DOH launched the dengue vaccination initiative in Regions III, IV-A and National Capital Region — regions with high numbers of dengue cases.
More than 730,000 public school children aged 9 and above in these regions received at least the first dose of Dengvaxia.
According to Heath Secretary Francisco Duque III, at least one 12-year-old from northern Tarlac province developed dengue after being immunized but has already recovered. He did not say if Dengvaxia caused the infection although Sanofi officials have said the vaccine itself does not cause infection.
Another possible dengue case is being investigated, he said.
Garin earlier said there was no warning given by Sanofi while she was secretary that the dengue vaccine Dengvaxia carried a risk for those without prior infection.
She said she is ready to face a Senate investigation into the matter. The House of Representatives has also indicated it will hold hearings.
The Department of Justice had ordered the National Bureau of Investigation to start its probe on the potential criminal liability of those responsible for the release of the anti-dengue vaccine.
READ: DOH forms task force on Dengvaxia dengue vaccine | Philippines wants money back from Sanofi for dengue vaccine