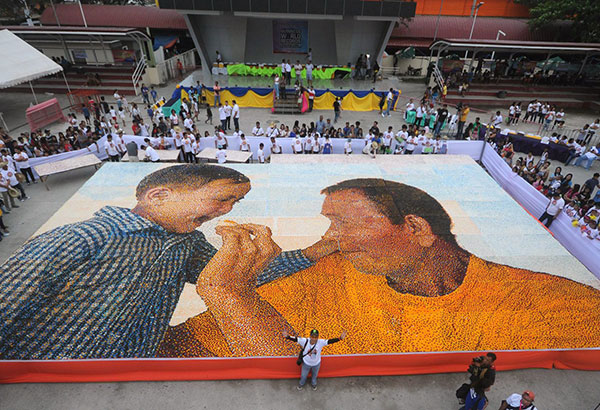 Workers put the finishing touches on a 200-square-meter puto (rice cake) mosaic of a man with his grandson prior to its unveiling at the town plaza in Calasiao, Pangasinan yesterday. Cesar Ramirez
Town aims for Guinness World Record with giant puto
CALASIAO – This town is taking a stab at earning a place in the Guinness World Records with its 200-square meter puto (rice cake) mosaic that it hopes will be adjudged as the biggest the world has ever known.
The unveiling of the gigantic puto at the town plaza yesterday highlighted this year's celebration of the Puto Festival. The town is best known for its puto industry.
Residents and local officials led by Mayor Joseph Arman Bauzon feasted on the giant cake after documentation procedures.
In an interview, Bauzon said the idea of creating such mosaic was brought up by events coordinator Vanjie Padilla and mayor's office staff Richard Poserio and Christopher Parayno.
Bauzon said the idea was meant to give the puto industry more exposure.
"I believe that by trying to beat the record, magkakaroon ng exposure, magkakaroon ng push sa industry and I think it is a way for the local government unit to give back to an industry which has been very good to us," the mayor added.
Bauzon said that the attempt to break the current record is not just to earn recognition for the town, but also an attempt to expand the market for puto.
He said that the current record is 64 square meters set in Japan. Bauzon said they used around 320,000 to 350,000 pieces of puto to construct the mosaic, which depicts an old man and a grandson sharing the delicacy.
He also said that 70 long tables measuring four feet by eight feet each were utilized for the endeavor. He also said they tapped the expertise of puto producers who were selling their products at the town plaza.
In case their puto mosaic fails to make it to Guinness, the town will set up a marker to commemorate the event. Padilla said master pixel artist Kel Cruz had helped in designing the mosaic.