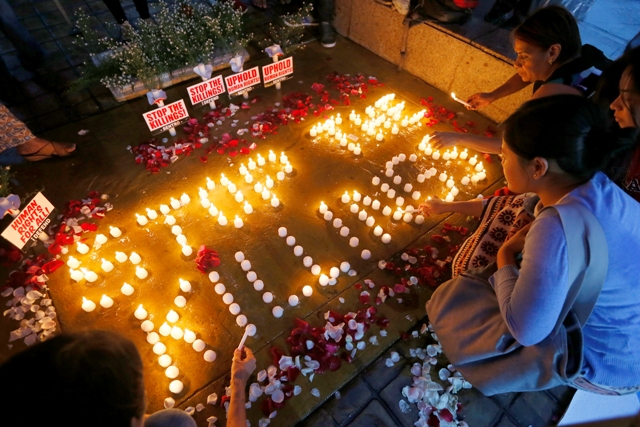 Amnesty International raised concerns on the shrinking space for human rights defenders, following the killings of human rights activists such as Catholic priest Fr. Marcelito Paez in Nueva Ecija, Karapatan coordinator Elisa Badayos and Eleuterio Moises in Negros Oriental. AP/Bullit Marquez
Int'l rights groups decry killings of Filipino human rights defenders
(The Philippine Star) - December 8, 2017 - 3:44am
MANILA, Philippines — International human rights organizations expressed their strong condemnation on the recent killings of human rights defenders and the "worsening climate of impunity" in the country.
Amnesty International raised concerns on the shrinking space for human rights defenders, following the killings of human rights activists such as Catholic priest Fr. Marcelito Paez in Nueva Ecija, Karapatan coordinator Elisa Badayos and Eleuterio Moises in Negros Oriental.
"Under President [Rodrigo] Duterte, activists and human rights defenders in the Philippines have come under increasing attack," AI said in a statement.
It called for "prompt, independent, impartial and effective" investigation into the killings of human rights defenders.
Dublin-based Front Line Defenders urged the Philippine government to "guarantee in all circumstances that all human rights defenders in the Philippines are able to carry out their legitimate human rights activities without fear of reprisals and free of all restrictions."
World Organization Against Torture—an international non-governmental organization based in Geneva, Switzerland—also called upon the government to comply with the provisions of the UN Declaration on Human Rights Defenders.
"More generally, ensure in all circumstances respect for human rights and fundamental freedoms in accordance with international human rights instruments ratified by the Philippines," the group said.
Rights watchdog Karapatan has already documented over 100 victims of political killings under Duterte's administration.
The Philippine government, however, insisted that there is no culture of impunity in the country.
READ: Activists see crackdown on dissent with end of peace talks
Protest actions
International Coalition for Human Rights in the Philippines, a global network of organizations, will hold protest actions condemning the deteriorating human rights situation in the country on December 10, which marks the International Human Rights Day.
Filipino migrant workers and human rights advocates will conduct demonstrations in Japan, Hongkong, Canada, South Korea, Australia, the United States, Italy, Belgium, France, Germany and the Netherlands.
Cause-oriented group Movement Against Tyranny will likewise hold a rally on Saturday at the Bonifacio Shrine in Manila from 3 to 5 p.m.
"We are inviting the public to stand with us on December 10 to uphold human rights and reject tyranny and dictatorship," MAT said in a statement released Wednesday.