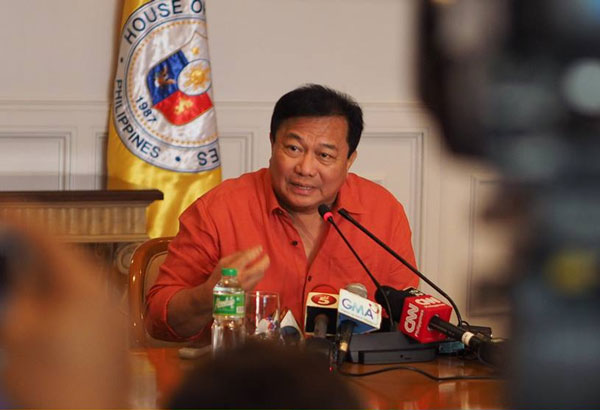 In a radio interview, Alvarez said under the Constitution, Senators can only propose substantial amendments on TRAIN, which are subject to the approval of the House from which tax measures should emanate by law in the first place. Facebook/Speaker Pantaleon Alvarez
Alvarez says House has 'exclusive jurisdiction' over TRAIN as Senate votes to hike coal tax
(Philstar.com) - December 7, 2017 - 3:29am
MANILA, Philippines — House Speaker Pantaleon Alvarez on Thursday maintained that the House of Representatives has "exclusive jurisdiction" over the Duterte administration's proposed tax reform program as he criticized the Senate for voting to increase excise tax on coal.
The Senate last week voted to hike excise tax on coal to as much as P300 per metric ton in 2020 from the current P10 per metric ton, which has been in effect since the 1970s.
The proposed increment will be gradual, climbing to P100 in 2018, P200 in 2019, and finally to P300 in 2020.
The increase, however, is not yet final as both chambers of Congress still need to harmonize their respective versions of the the proposed Tax Reform for Acceleration and Inclusion Act (TRAIN). A bicameral conference committee is expected to wrap up its final report this month.
READ: Senate rushes to approve tax reform bill
In a radio interview, Alvarez said under the Constitution, Senators can only propose substantial amendments on TRAIN, which are subject to the approval of the House from which tax measures should emanate by law in the first place.
He said the lower house won't allow the proposed raise in coal tax, citing the surge in power cost that will be triggered by the measure.
"Ito ay exclusive jurisdiction nga ng House of Representatives, malinaw na malinaw na ibinigay ito ng ating Saligang Batas," Alvarez told DZRH radio.
"Ang Senado ay nakalagay lang doon ay... they can propose amendments, kung papayag kami. Kung hindi kami papayag, eh di wala," he added.
"Hindi po namin papayagan iyan."
According to the Constitution, "all appropriation, revenue or tariff bills, bills authorizing increase of the public debt, bills of local application, and private bills shall originate exclusively in the House of Representatives, but the Senate may propose or concur with amendments."
Business groups had cautioned that the proposed coal tax under the Senate-approved version of TRAIN is expected to send shockwaves through the power sector, thereby worsening the already poorly situated power cost competitiveness of the country.
Trade Secretary Ramon Lopez, for his part, had also warned that the looming spike in levies imposed on coal could threaten the Philippines' accelerated manufacturing growth target of over 10 percent next year.
But clean energy advocates belied claims that increasing the coal tax will cause electricity rates to soar.
"What will raise the price of electricity is not the coal tax per se, but coal plants passing on fuel costs to the consumers," Center for Energy, Ecology and Development executive director Gerry Arances said.
He said removing the "pass-through" provision in the energy law, Republic Act 9513, "will protect consumers from taking the hit in levying taxes against the coal industry."