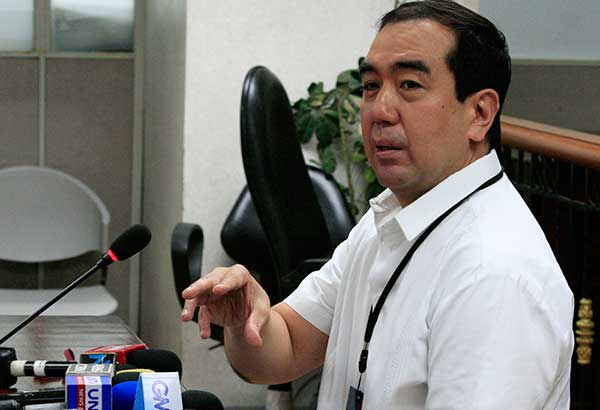 Sen. Francis Escudero, chairman of the Senate committee on banks and financial institutions, said the Senate is set to issue a subpoena to compel Bautista to appear before the panel in its next hearing into the former poll chief's P329-million deposits in the Luzon Development Bank (LDB) that were alleged to be ill-gotten. Edd Gumban, File
Senate to subpoena Bautista over ill-gotten wealth issue
Paolo Romero
(The Philippine Star) - December 6, 2017 - 4:00pm
MANILA, Philippines — Former Commission on Elections (Comelec) chief Andres Bautista will be cited in contempt by the Senate if he does not heed the subpoena to be issued by the chamber in connection with its inquiry into his alleged ill-gotten wealth, Sen. Francis Escudero warned yesterday.
Escudero, chairman of the Senate committee on banks and financial institutions, said the Senate is set to issue a subpoena to compel Bautista to appear before the panel in its next hearing into the former poll chief's P329-million deposits in the Luzon Development Bank (LDB) that were alleged to be ill-gotten.
Bautista has snubbed the last two hearings of the committee even as he promised before the media that he was willing to face the legislative inquiry and issue a waiver to open his accounts at the LDB.
"We will wait…for an explanation from him (on why he snubbed the investigation) and if none is forthcoming, we will ask Senate President (Aquilino) Pimentel (III) to issue a subpoena," Escudero told reporters after the hearing yesterday.
Escudero said the committee has sent formal invitations to Bautista through all his three known addresses, of which only one was properly received.
"He (Bautista) has made so many claims and statements, including his brother (Martin), about being transparent and having nothing to hide, and willingness to cooperate in any investigation – we're all waiting for them to live up to their statements," he said.
The senator warned that Bautista could be cited in contempt and be arrested if he does not show up at the next hearing in January as what happened to other high-profile individuals who refused to cooperate in Senate investigations.
Last Oct. 11, Bautista expressed his intention to resign by the end of the year, apparently to stave off his impeachment in the House of Representatives also on charges of ill-gotten wealth, among others.
The House impeached him the following day apparently because there was an agreement for him to immediately step down or face impeachment.
Bautista then said the decision would be up to President Duterte, who opted to accept his offer to resign effective immediately.
During yesterday's hearing, Escudero also sought the submission of Bautista's statement of assets, liabilities and net worth.
Officials from the Anti-Money Laundering Council told the committee that it is still looking into the books of LDB to see if the bank violated the Anti-Money Laundering Law.
LDB officials maintained they cannot open Bautista's bank accounts to the committee unless his issues a waiver.