DOJ sets probe of dengue vaccine mess
December 3, 2017 | 4:00pm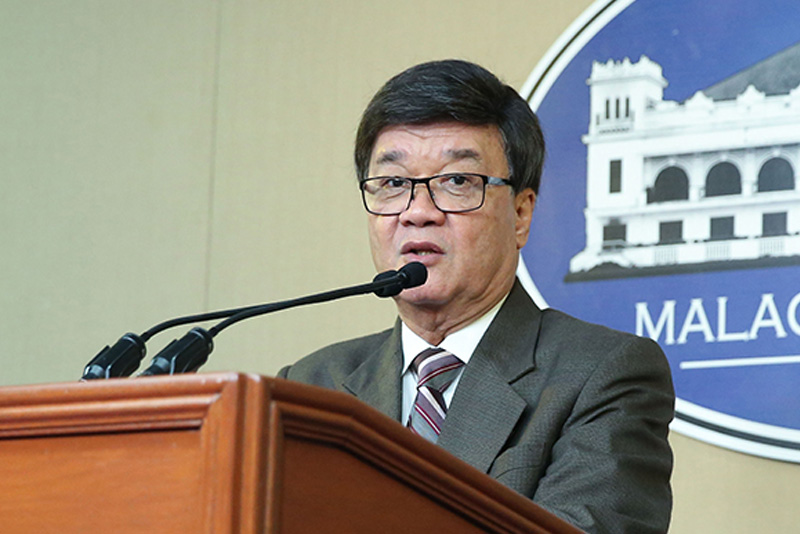 MANILA, Philippines — The Department of Justice (DOJ) will investigate the controversial P3.5-billion dengue vaccine project of the Department of Health (DOH) that reportedly poses health risks to children already injected but without a history of the disease.
Justice Secretary Vitaliano Aguirre II said yesterday that he would tap the National Bureau of Investigation (NBI) and conduct a fact-finding probe to determine possible liabilities of officials behind the project that was approved by former health secretary Janette Garin.
"I will prepare ASAP the appropriate department order. Everybody who has some involvement will be included and appropriate charges will be filed against them if warranted," he said in a text message.
The DOJ chief also bared that he personally received a number of complaints from parents of children injected with the Dengvaxia vaccine by health officers.
"One complained to me that his son who was inoculated of that anti-dengue vaccine in April 2016 is now sick of 'baby tb' and his immune system is now very weak and has become a financial burden to them," he said.
Initial information reaching the DOJ showed that the program was approved by Garin and the previous administration despite strong objections from medical experts due to lack of certification from the World Health Organization (WHO).
It was also learned that the DOH was properly warned about the possible effects of the Dengvaxia vaccine to those who have not contracted dengue yet, but the DOH still approved the program.
The Philippines was the first Asian country to approve Dengvaxia vaccine for individuals aged nine to 45 years old in December 2015. The program was approved in just four months when such projects usually take two years for approval.
The DOH also did not conduct tests to determine if those immunized have had dengue history, which means it has no record as to who would be affected by the risk posed by the vaccine.
The controversy on Dengvaxia vaccine broke after an advisory from French-based pharmaceutical company Sanofi Pasteur saying new clinical analysis has found the vaccine is effective for people who have had dengue prior to immunization, but citing a risk of a "severe" case of dengue for people who have not.
"Dengvaxia provides persistent protective benefits against dengue in those who has prior infection. For those not previously infected by dengue virus, however, more cases of severe disease could occur following vaccination upon a subsequent dengue infection," Sanofi Pasteur said in its statement last week.
This development puts around 10 percent of the over 700,000 school children who received the shots at risk to a "severe" case of the disease, prompting Health Secretary Francisco Duque III to order the suspension of the dengue vaccination program pending recommendation from the WHO.
More than 733,000 children, nine years old and above, from public schools in Metro Manila, Central Luzon and Calabarzon have received at least the first of three doses of the vaccine.
Allaying fears from worried parents, Duque said the vaccine will in any case provide a 30-month protection period against dengue and assured the public that the DOH is on top of the situation.
Congressional investigation
The Senate, through its committee on health chaired by Sen. JV Ejercito, is also planning to conduct an inquiry on the program next month.
Quezon City Rep. Winston Castelo urged the House health committee to also conduct an inquiry.
"The program appears to have been rushed—without a complete assessment of the vaccine's risks and benefits," said Castelo, chairman of the House committee on Metro Manila development.
"What was the haste for? Obviously it has led not only to waste of government resources but a great risk to health and life of tens of thousands of children," he added.
Malacañang said that those behind the Dengvaxia fiasco would be made accountable.
"We will leave no stone unturned in making those responsible for this shameless public health scam which puts hundreds of thousands of young lives at risk accountable," presidential spokesman Harry Roque said yesterday.
"However, we call on all citizens not to spread information that may cause undue alarm," Roque said.
Vice President Leni Robredo also backed calls for an investigation into the government's purchase of Dengvaxia vaccine and to make accountable those who are responsible for the dengue vaccine fiasco.
"This must be studied carefully and hold accountable those responsible for it," Robredo said in her weekly program BISErbisyong Leni over dzXL.
The Vice President said concerned parties must address concerns over the issue immediately, especially for the parents whose children were vaccinated by Dengvaxia.
The Makati City government, for its part, has started tracking down students and local government employees who received the Dengvaxia vaccine.
Makati City Mayor Abby Binay suspended the city's anti-dengue vaccination drive and ordered the city health department to monitor the health of students and local government employees.
Vaccine program defended
Garin has defended the controversial dengue vaccine project of the DOH during her time as health chief.
"The dengue vaccine program was implemented by the DOH in line with the WHO guidelines and recommendations from both local and global experts," she said over the weekend.
"Dengue, affecting 90 to 93 percent of the population in the targeted areas, was addressed as our government's obligation to respond," she added.
Public health expert Susie Pineda earlier said the WHO only provides guidelines and not recommendation.
Pineda said based on the WHO's guidelines, immunization should be mounted in areas with high prevalence of the mosquito-borne illness.
She also noted that dengue infection is more severe when the patient is afflicted for the second or third time.
"Dengvaxia is unlike any other vaccine since it should be given to those who were previously afflicted with dengue to prevent more serious infections in the future," she added.
Pineda she is has not heard information that DOH conducted blood test among the children before the vaccine was injected to them.
She stressed the need for serious study before any vaccine should be introduced to the government's immunization program.
She also said that the findings on Dengvaxia should serve as a wake-up call for the public and the government to focus on prevention by clearing their surroundings of mosquito-breeding sites.
With Mayen Jaymalin, Helen Flores, Alexis Romero, Delon Porcalla, Perseus Echeminada