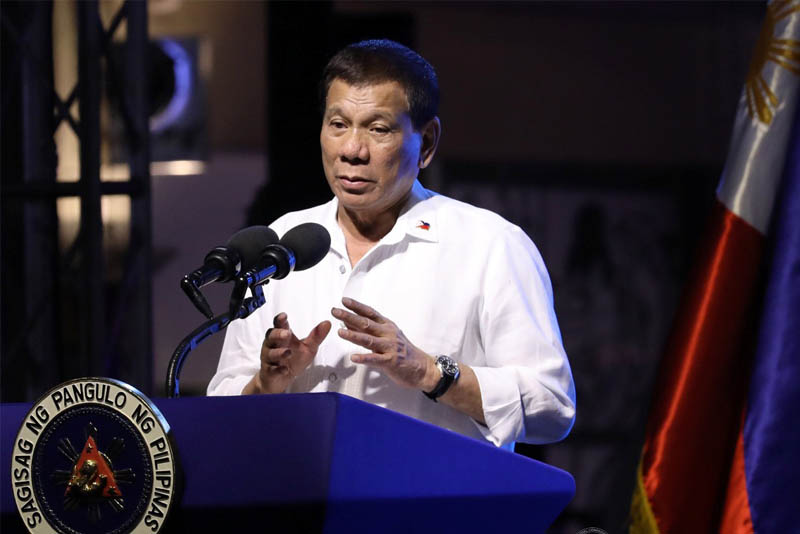 President Rodrigo Duterte has repeatedly accused the Liberal Party and other personalities critical of the current administration of planning to oust him from office. Presidential Photo/Rey Baniquet
De Lima: Duterte 'blaming everyone but himself'
(philstar.com) - November 28, 2017 - 10:39am
MANILA, Philippines — President Rodrigo Duterte is "blaming everyone but himself," according to detained Senator Leila de Lima.
"This regime thrives on projecting its failures to conspiracy theories and imagined enemies of the state, and to an all but decimated political opposition," she said in a statement Tuesday.
"It is blaming everyone but itself. This is what the charges against Aquino officials are all about," De Lima said.
She cited the unfortunate state of the Metro Rail Transit Line 3 as the prime issue being thrown at the administration of former President Benigno Aquino III.
"With nothing to show after more than one year in office except blusters, blunders and scandals, Duterte has resorted to looking for scapegoats. And what better scapegoats are there than the favorite punching bags of the Duterte lynch mob, the Liberal Party," de Lima said.
"Duterte has to be told. PNoy is no longer the president. He is. The buck stops with him now. And no amount of speeches at an MRT station to blame detaching carriages on imagined saboteurs, or an MRT-commuting PR stunt of his spokesperson-cum-senatorial wannabe can change that fact," she added.
She called on her nemesis, Duterte, to start solving problems "soon and fast" as the "nation is already in shambles."
"The much promised crime-free and corruption-free Philippines in six months remains to be an illusion," de Lima said.
She added: "It took the country 30 years to get out of the bankrupt state the Marcos dictatorship has left it in 1986. Unless we wake up soon to the reality of the grave Duterte is digging for us, our children will live half their lifetime climbing out of that grave, once again, the same way we did 30 years ago."
Duterte has repeatedly accused the Liberal Party and other personalities critical of the current administration of planning to oust him from office.
READ: Duterte's ouster claim 'fake, floated to deflect issues'
Members of the Aquino administration including former Department of Transportation and Communications secretary Joseph Emilio Abaya and Department of Interior and the Local Government secretary Mar Roxas are facing plunder charges filed by the current transport administration over the allegedly anomalous P3.8-billion maintenance contract for MRT.
READ: Abaya, Roxas, others face plunder complaint over MRT deal