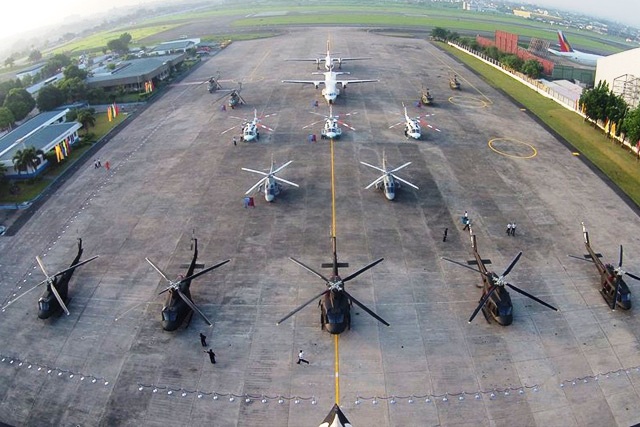 Director Arsenio Andolong, defense spokesman said big-ticket projects under Horizon 2 of the Revised Armed Forces of the Philippines Modernization Program (RAFPMP), which includes the acquisition of the attack helicopters, has no approved budget for contract as yet. PAF/Released, File photo
'Partial' delivery of attack helicopters for DND expected before yearend — Diokno
(philstar.com) - November 25, 2017 - 8:40am
MANILA, Philippines — The military can expect before yearend the "partial delivery" of brand new attack helicopters that President Rodrigo Duterte promised to soldiers, Budget Secretary Benjamin Diokno said.
Duterte promised wounded soldiers during a recent visit at the Philippine Army Hospital in Taguig City that he would purchase 23 armed helicopters to help them fight terrorists and other enemies of the state.
In an interview on Friday, Diokno said the government is now finalizing the purchase agreement of the assault helicopters "before end of 2017."
"There will be partial delivery before end of the year because there are some stocks available. I can't give you any more details since this involves military information," the budget chief said.
Director Arsenio Andolong, defense spokesman said big-ticket projects under Horizon 2 of the Revised Armed Forces of the Philippines Modernization Program (RAFPMP), which includes the acquisition of the attack helicopters, has no approved budget for contract as yet.
"We have programmed the procurement of 24 attack helicopters. We are now awaiting the final approval of the Office of the President on the RAFPMP Second Horizon," Andolong said.
But since the president had already announced the procurement of attack helicopters, funding for the project could be forthcoming any time soon, Andolong said.
But even with an approved budget and procurement processes completed, a Camp Aguinaldo insider said delivery of these attack helicopters would take years to complete.
"Buying these air assets is not that simple as if you're just buying something from a marketplace. You have to forge a deal with a defense contractor, before any of these aircraft are manufactured by a defense manufacturer," he said.