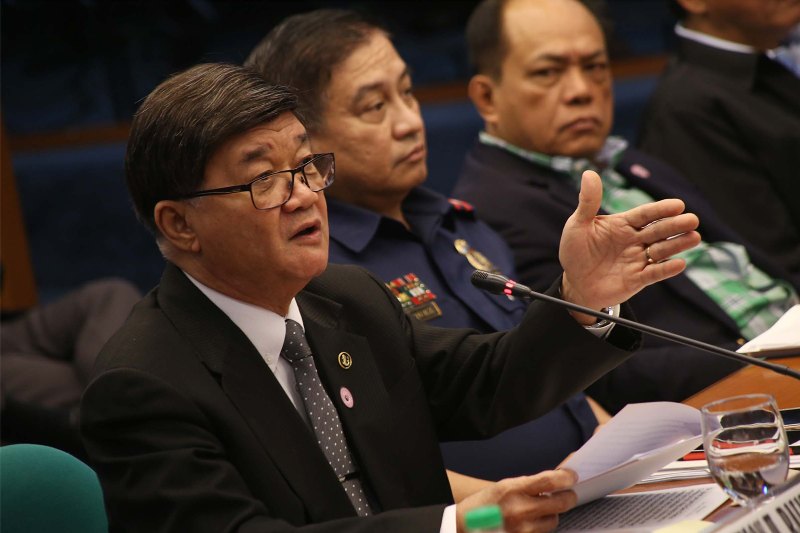 Justice Secretary Vitaliano Aguirre II defended the ruling saying "the DOJ preliminary investigation does not depend on the investigation being conducted by them (senators)," as his office could not, on its own, use the information and pieces of evidence presented during the Senate hearings. PNA/Avito C. Dalan, File
Aguirre: Blame PDEA for dismissal of raps vs Faeldon
MANILA, Philippines — Justice Secretary Vitaliano Aguirre II urged his critics in the Senate yesterday to first read the facts behind the dismissal of the illegal drugs and graft complaints against former Customs commissioner Nicanor Faeldon and 11 others before hurling accusations.
If there is anyone to blame, he said, it is the Philippine Drug Enforcement Agency (PDEA) for filing a sloppy complaint and reply to the panel of prosecutors that investigated the case.
"My advice to them is to read first the complaint of the PDEA and the findings of the panel and see what kind of evidence they submitted. You should not be too quick in drawing your own conclusion, especially these opposition senators," said Aguirre.
Opposition Sen. Bam Aquino called the Department of Justice (DOJ) resolution "peculiar" as the smuggling of P6.4 billion worth of shabu into the country would not have succeeded without the collusion of some Bureau of Customs insiders, as Senate investigation had shown.
Sen. Francis Pangilinan, who also belongs to the opposition, cited an "apparent pattern" of DOJ exoneration of administration allies.
In his Twitter account, Senate Majority Leader Vicente Sotto III urged the Office of the President to review the decision.
Detained Sen. Leila de Lima said the resolution "deserves a closer scrutiny" to determine why no government official was made accountable for the drug smuggling.
The 95-page resolution prepared by a DOJ panel chaired by Assistant State Prosecutor Aristotle Reyes runs contrary to the Senate blue ribbon committee draft report, which recommended the filing of charges against some Customs officials.
Aguirre defended the ruling saying "the DOJ preliminary investigation does not depend on the investigation being conducted by them (senators)," as his office could not, on its own, use the information and pieces of evidence presented during the Senate hearings.
These have to be presented by the complainant, he added.
Reyes said the complaint failed because of "lack of clarity" and the failure of PDEA to specifically identify the omissions or acts or committed by the respondents that constituted the violations.
Panel member Joan Garcia pointed out that PDEA only submitted a 23-page complaint with incomplete evidence.
"We know that the Senate conducted a very exhaustive hearing. However, much of the evidence and testimonies submitted during the Senate hearing was not given before our panel. We can only judge based on the evidence submitted to us…We cannot rule on something without having any basis, otherwise we would be putting ourselves in a predicament. We also do not want to prejudge or be a lawyer for anyone," Garcia said.
Saying some senators were "too quick to comment without first knowing the process at the DOJ," Aguirre denied influencing the investigating panel saying there is no need to do so since the case would eventually reach his table for decision anyway. – With Paolo Romero