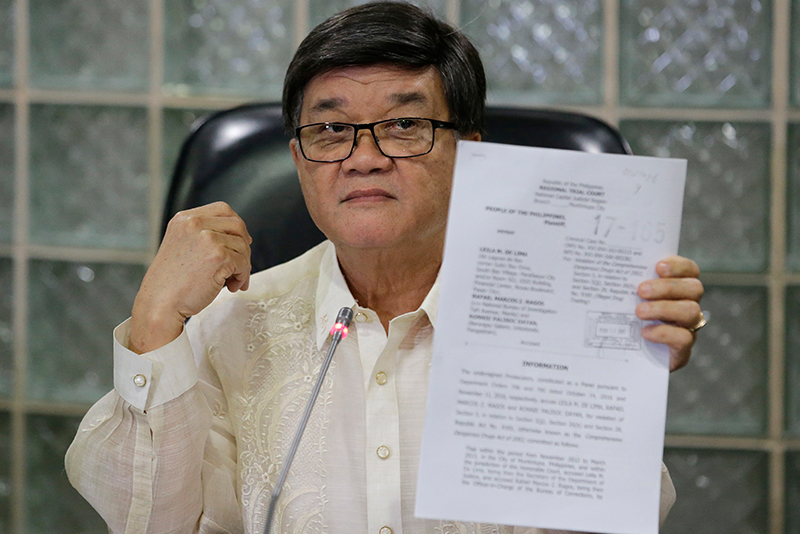 Justice Secretary Vitaliano Aguirre II on Thursday issued Department Order No. 749, after former Manila Councilor Greco Belgica accused Aquino of participation in the DAP mess. The DOJ has jurisdiction over the NBI. AP/File
DOJ orders probe on DAP anomalies under Aquino
MANILA, Philippines — Justice Secretary Vitaliano Aguirre II has ordered the National Bureau of Investigation (NBI) to look into former president Benigno Aquino III's alleged involvement in the unconstitutional Disbursement Acceleration Program (DAP).
Aguirre on Thursday issued Department Order No. 749, after former Manila Councilor Greco Belgica accused Aquino of participation in the DAP mess. The DOJ has jurisdiction over the NBI.
Created during the Aquino administration, DAP was a special budget for accelerating government projects and aiding agencies in need of additional funds even without the approval of Congress.
Under DO No.749, the NBI is "directed and granted authority to investigate the complaint filed by the Coalition for Investigation and Prosecution led by Greco Belgica against Aquino for malversation under Art. 217 of the Revised Penal Code."
Aguirre also signed DO No. 751 and DO No. 752 ordering the NBI to reopen its investigation into the anomalies in the DAP and Priority Development Assistance Fund scam, respectively.
In all three orders, Aguirre instructed the NBI "to form a special task force that will investigate the anomalies."
Aguirre said the reopening of the investigation is "in view of new evidence discovered and presented."
Aguirre also directed the task force to submit periodic reports of its investigation to Justice Undersecretary Antonio Kho, Jr.
"We only pray for truth and justice to be served. DAP is a crime that has been decided almost four years ago. Its investigation and the prosecution of its perpetrators have been blocked since then by those who committed it and with many of those who still remain in power. Things and systems will not change until justice is served and truth revealed," Belgica said in reaction to Aguirre's ordering the investigation.