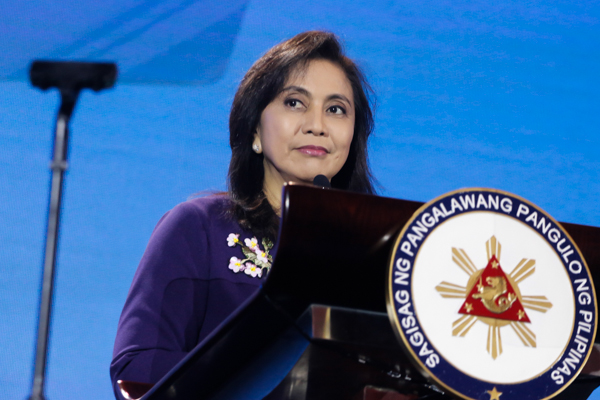 Vice President Leni Robredo maintained her position that the authority and legitimacy of public officials are anchored on their fidelity to the Constitution and the democratic principles enshrined within it. Philstar/Efigenio Toledo IV
Robredo welcomes Duterte's pronouncement vs revolutionary gov't, martial law
(philstar.com) - November 22, 2017 - 9:28am
MANILA, Philippines — Vice President Leni Robredo on Wednesday welcomed President Rodrigo Duterte's pronouncement that he will not declare a revolutionary government or impose martial law.
Robredo said it is an important step toward allaying the fears of many Filipinos that the return of a dictatorial regime may be imminent.
"It is our hope that this declaration will put an end to the dangerous and alarming proposals made in both traditional and social media the past month to set aside the certainty and security of our Constitution and laws in favor of dictatorial rule by way of either 'revolutionary government' or martial law," she said.
She maintained her position that the authority and legitimacy of public officials are anchored on their fidelity to the Constitution and the democratic principles enshrined within it.
"Setting aside the Constitution is a betrayal of this oath and denies this authority and legitimacy," Robredo said.
The vice president added: "The president's latest declaration should serve as a clear message to all our public officials and our people—the oaths we took will continue to be honored and our Constitution and the democratic republic it established will be upheld and defended."
READ: Duterte nixes idea of a revolutionary government
On Tuesday, Duterte called on the military to ignore talks about a revolutionary government, noting the idea is far-fetched.
"Huwag kayong maniwala 'yang mga coup d'état, mga revolutionary coup d'état. Wala tayong makukuha diyan (Do not believe talks about coup d'état, revolutionary coup d'état. We won't get anything from that). Let us just build a country," he said during his visit to wounded soldiers at the Army General Hospital in Taguig.
The president reassured the public that he would not declare martial law or a revolutionary government, saying that he would just arrest the rebels and detain them in government prisons for a number of hours.
Last month, the firebrand leader threatened he will not hesitate to declare a revolutionary government to quell destabilization moves against his administration.
But Duterte later downplayed the statement and said that he would only do so if "things go out of control" and there is danger of a violent overthrow.