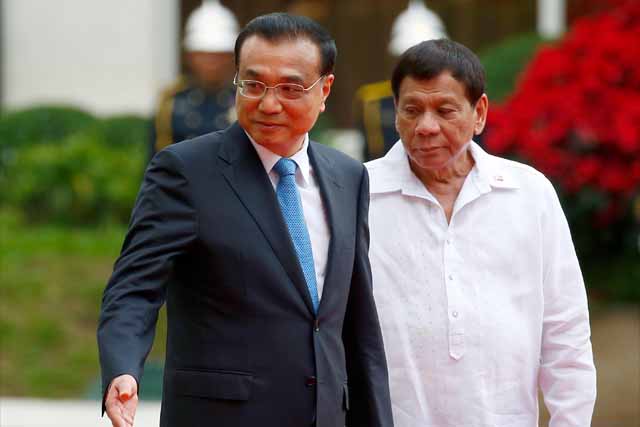 Chinese Premier Li Keqiang, left, gestures to Philippine President Rodrigo Duterte as they prepare for their bilateral meeting following a welcome ceremony at Malacanang Palace grounds in Manila, Philippines, Wednesday, Nov. 15, 2017. Li is on an official visit to the country. AP/Bullit Marquez
Duterte offers China 3rd telecom carrier slot
(Associated Press) - November 20, 2017 - 9:11am
MANILA, Philippines — President Rodrigo Duterte's spokesman says China is being offered a chance to operate a third telecommunications carrier in the Philippines.
The move is aimed at breaking a telecoms duopoly in a country that is said to have the slowest internet speed in the Asia Pacific.
Presidential spokesman Harry Roque said Monday that Duterte made the offer to Chinese Premier Li Keqiang during a meeting last week in the capital, Manila.
Roque said it was unclear which Chinese company might take on the project. It would be competing with current operators Globe Telecom Inc. and PLDT Inc.
In 2007, the Philippines signed a contract with China's ZTE for a national broadband network. The project was plagued with problems such as alleged overpricing and kickbacks and was eventually scrapped.