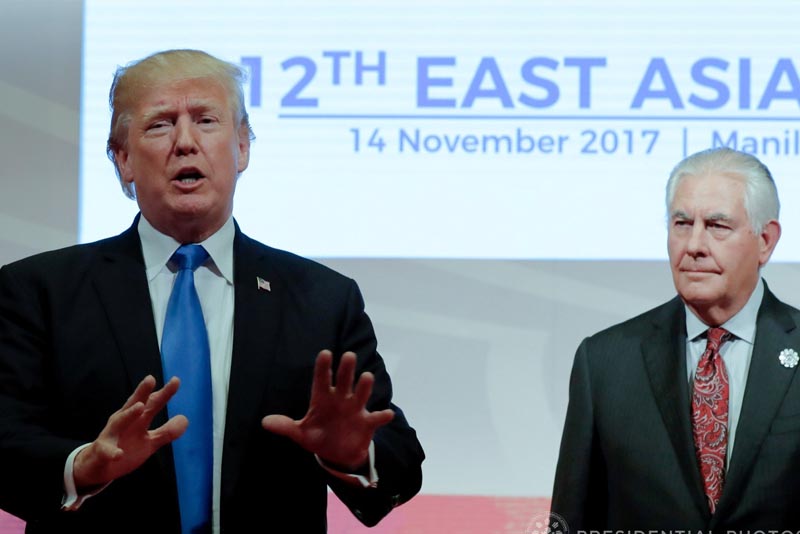 American President Donald Trump delivers his remarks at the start of the East Asia Summit attended by other state leaders on Tuesday, Nov. 14, 2017. Trump skipped part of the major meeting in Manila due to the delay in schedule. Beside him in the photo is his Secretary of State Rex Tillerson. PPD
Trump's mediation offer to have no effect on South China Sea talks
MANILA, Philippines — The offer of US President Donald Trump to serve as a mediator on the maritime dispute over the South China Sea would not affect the negotiations on the code of conduct in the disputed waters, a political analyst said.
In his visit to Vietnam, Trump told Vietnamese President Tran Dai Qang that he is a "very good mediator and a very good arbitrator." Claimant states were cautious in not affirming Trump's offer as China has long maintained that the US is an outsider in the disputes.
Dindo Manhit, president of the private think tank Stratbase ADR Institute, said that Trump's offer to mediate shows the importance of the South China Sea issue.
All concerned states, however, would have to agree of this kind of approach to settling the dispute.
"China has pressed for the bilateral option, not one involving many states," Manhit told Philstar.com
Foreign Affairs Secretary Alan Peter Cayetano earlier gave the same statement, stressing that mediation involves all concerned parties.
READ: Philippines welcomes Trump offer to mediate dispute vs China
The completion of the code of conduct on the South China Sea, even without the mediation of Trump, would be the best way to manage the dispute.
"Claims and disputes must be continuously and carefully managed so that these do not undermine our maritime security, as well as overall security," Manhit said.
China and member-states of the ASEAN have agreed to commence with the negotiations on the South China Sea code.
Gregory Poling, director of the Asia Maritime Transparency Initiative, think that the negotiations on the code of conduct would still take years.
"What I expect is that the disappointments that [are] going to be obvious after this year might finally kick ASEAN states into gear, make them realize that they need to think of a different venue to get this done," Poling said at a forum organized by think tank Stratbase AdRI in Makati City ahead of the summit.
The code of conduct is seen as a "critical mechanism in maintaining peace and security in the region" amid China's provocative actions in the region.
"One of the most important actions is for the countries to exercise self-restraint and focus on peaceful means in resolving the disputes," Manhit said.
The crafting of the code of conduct was announced after the ASEAN-China Summit which was held in Manila, three months after the conclusion of the framework agreement.
READ: ASEAN, China agree to start talks on South China Sea code