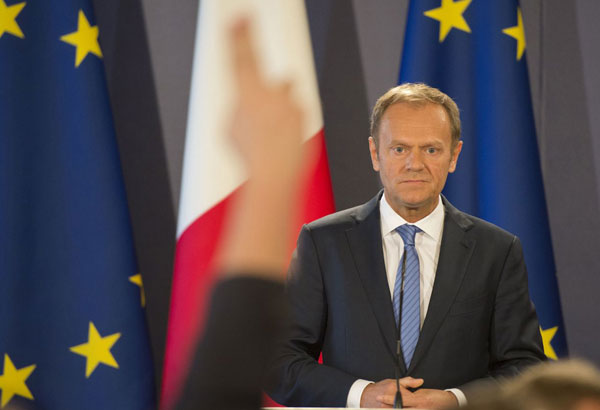 "Most crises today have a global impact. Conflicts in the EU (European Union)'s neighborhood have an impact on markets and societies elsewhere, including here in Southeast Asia. And tensions and radicalization in the Asia-Pacific can destabilize the world well beyond your region," Tusk said in his remarks at the ASEAN-EU 40th anniversary commemorative summit. AP/Rene Rossignaud, File
European Council chief worried over radicalization in Asia-Pacific
MANILA, Philippines — With terrorist ideologies spreading across continents and a spate of terror attacks in Europe, European Council President Donald Tusk yesterday expressed serious concern over tensions and radicalization in the Asia-Pacific region.
Tusk stressed the terror threat can destabilize the world well beyond the region.
"Most crises today have a global impact. Conflicts in the EU (European Union)'s neighborhood have an impact on markets and societies elsewhere, including here in Southeast Asia. And tensions and radicalization in the Asia-Pacific can destabilize the world well beyond your region," Tusk said in his remarks at the ASEAN-EU 40th anniversary commemorative summit.
"Terrorist ideologies have spread across continents," he said.
This threat can be mitigated if countries work together, share information on suspects and trends of concern, Tusk said.
He noted the ASEAN and the EU are already developing anti-terror cooperation through information sharing via Interpol and Europol and the exchange of best practices on dealing with violent extremism.
"We in Europe are grateful to be able to draw on the considerable experience ASEAN countries have on this issue," he added.
Beyond counterterrorism, ASEAN and EU have cooperated since 2012 on tackling a variety of other threats.
In June, ASEAN representatives visited the headquarters of the EU's anti-smuggling naval mission Operation Sophia, which targets people smugglers and trafficking networks in the Mediterranean.
"Be it in the fight against piracy, against illegal and unregulated fishing or any other type of transnational criminality at sea, the EU has a strong record and know-how that we are sharing with ASEAN partners," Tusk said.