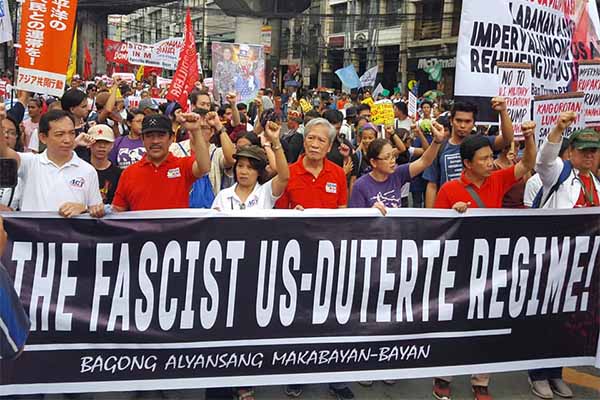 Rallyists head to Mendiola, Manila to protest against the visit of US Donald Trump for the ASEAN Summit. BAYAN Facebook page
Protests continue as ASEAN Summit winds down
(philstar.com) - November 14, 2017 - 8:12am
MANILA, Philippines — Protests continued until the last day of the Association of South East Asian Nations Summit on Tuesday, November 14.
Members of activist groups gathered at the Mendiola peace arch on Tuesday morning to resume protests against the visit of US President Donald Trump and against the ASEAN Summit itself.
The rallyists were led by members of Bagong Alyansang Makabayan and the Makabayan bloc of party-list lawmakers.
The groups carried "Ban Trump" posters.
On Monday, activist groups also held a rally and attempted to march towards the Philippine International Cultural Center, where high level meetings were being held by global leaders.
Police, however, stopped them along Taft Avenue. Despite orders for the police to maintain maximum tolerance, cops and protesters figured in a skirmish, causing injuries to both sides.
BAYAN Secretary General Nato Reyes said that 56 were injured among the rallyists.
Police Director Oscar Albayalde, National Capital Region Police Office chief, said that six officers were injured as well.
Gabriela slams use of 'harmful sonic weapon'
In a statement, the Gabriela Women's Party also slammed the police use of a Long Range Acoustic Device (LRAD), a "sonic weapon that generated an earsplitting sound" against the protesters on Monday.
Around 750 policemen stationed at Padre Faura Street met around 1,500 marching protesters, who were later bombarded with a water cannon.
Gabriela said that the use of the LRAD "constitutes a new level of state violence as there was an intent to harm the protesters during the skirmish at Taft Avenue."
"The latest anti-people weapon of the PNP must be probed and opposed. They can't just play with it every time there is a mobilization to cover the citizens' anger," Rep. Arlene Brosas (Gabriela party-list) said.
"We can't take the effect of this on the health and hearing of those in the rally and even on those responding police," she added.
Rep. Emmi de Jesus (Gabriela party-list), for her part, stressed: "PNP's use of the sonic weapon brings the Duterte regime's violence to a whole new level, and highlights the country's puppetry with LRAD manufactured in America for the defense of US President Trump, the most notorious face of sexism and militarism right now."
Chief Superintendent Noel Baraceros, operations officer of the ASEAN Security Task Force, said in a separate press conference on Monday morning that the authorities "abide by our existing police operational procedures."
He however said that: "'Pag meron nang (If there are) very offensive acts coming from the protestors, we really need to do something."
Trump left Manila Tuesday afternoon.