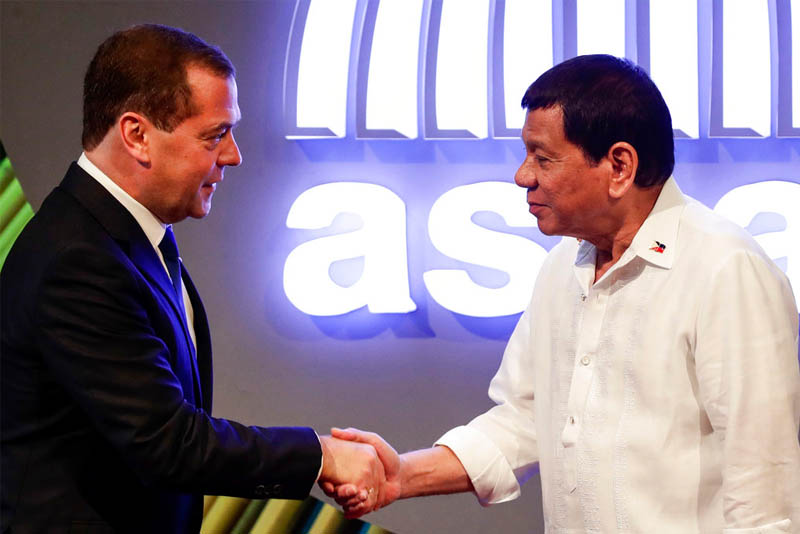 Russian Prime Minister Dmitry Medvedev, left, shakes hands with Philippine President Rodrigo Duterte before the opening ceremony of the 31st Association of Southeast Asian Nations (ASEAN) Summit in Manila, Philippines, Monday, Nov. 13, 2017. Mark Cristino/Pool Photo via AP
Trade, investments top Duterte's agenda with India, South Korea, Russia
(philstar.com) - November 14, 2017 - 6:31am
MANILA, Philippines — Expanding trade and investments topped the agenda of President Rodrigo Duterte's back-to-back bilateral meetings with leaders of India, South Korea, and Russia on the sidelines of a key summit among Southeast Asian countries.
Twenty-one world leaders are here for the 31st Association of Southeast Asian Nations meet—which local business leaders said could be an opportunity not only to address key economic and political issues in the region, but also to attract foreign direct investments into the country.
The Philippines emerged the fourth largest recipient of foreign direct investments in the region in 2016 with $7.93 billion, preliminary data from ASEAN showed.
SPECIAL COVERAGE: ASEAN Summit in the Philippines
India
In his first face-to-face meeting with Indian Prime Minister Narendra Modi, Duterte encouraged the Indian leader to invest in the Philippines, particularly in the manufacture of cheaper medicine.
Duterte added that he might send a delegation to India in order to woo potential investors.
The four agreements were signed in the areas of defense and logistics cooperation, agriculture, cooperation in the field of micro, small, and medium enterprises and for collaboration between the Indian Council of World Affairs and the Foreign Service Institute of Philippines.
"We want to discuss trade relations further and especially, the most important one is that… and I'm happy that you're here because of we can't find the medicines, and you have it and it is [in] India [where] people who [can] really afford to buy it," Duterte told Modi.
"These are the things that would interest us really. There's just a need for us to talk further and I might just send my Secretary of Finance and Agriculture Secretary, and the Department of Trade, and the Department of Health," he also said.
"I'm more interested, really, in the medicines because we are a poor country," he added.
India's pharmaceutical exports accounted for 20 percent of global generic drug exports by volume, making it the world's biggest supplier of generics.
India and the Philippines signed a Trade Agreement in 1979.
According to the Embassy, India has a "strong presence" in the Philippine generics sector with pharmaceutical majors such as Dabur Pharma, Lupin, Torrent, Zydus Cadilla, Claris Life sciences setting up liaison offices to promote their products.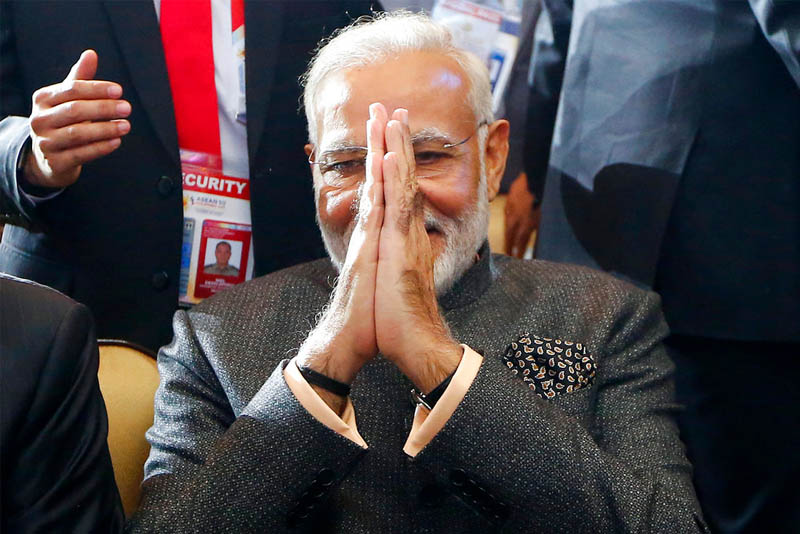 Indian Prime Minister Narendra Modi, center, arrives for a bilateral meeting with President Donald Trump during the ASEAN Summit at the Sofitel Philippine Plaza, Monday, Nov. 13, 2017, in Manila, Philippines. (AP/Andrew Harnik)
Toward the end of their bilateral meeting, Modi invited Duterte to visit India in January.
"God-willing, I will be there," Duterte responded.
South Korea
Duterte then sat down with South Korean President Moon Jae-in where he invited the Korean leader to further enhance Manila and Seoul's trade ties.
"We'd like to express our gratitude for you to import some of our products... personal care, food and seafood, it's organic and natural products; in garments and chemicals and other electronic parts, all being enjoyed in Korea," Duterte told Moon.
"We also would like to extend our invitation for you to go in the matter of manufacturing, automotive, food production, processing, agribusiness with bigger area, electronics and energy," he added
For his part, Moon assured Duterte of "safe and comfortable" living for Filipinos in Korea.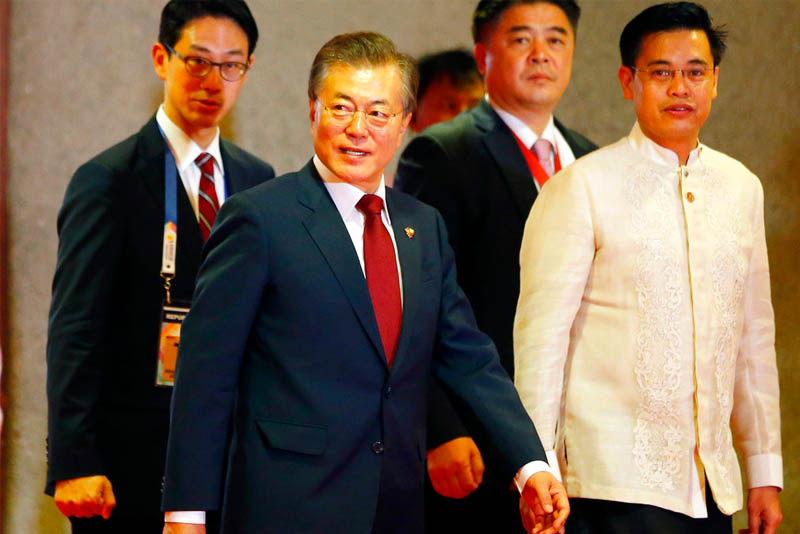 South Korean President Moon Jae-in, second from left, arrives for the ASEAN Plus Three Commemorative Summit in the 31st ASEAN Summit Tuesday, Nov. 14, 2017 in Manila, Philippines. (AP/Bullit Marquez, Pool)
"Mr. President, I ask for your attention and support so that the Koreans who visit and reside in the Philippines can have a safe and enjoyable stay," Moon told his Philippine counterpart.
"And the Korean wave is popular in the Philippines. And about 1.5 million Korean tourists visit the Philippines every year," he added.
Bilateral relations between the two Asian countries started in 1949 when the Philippines became the fifth country to recognize the Republic of Korea, which was inaugurated on Aug. 15, 1948.
South Korea is also a major trading partner of the Philippines. In 2006, South Korea was the top sender of visitors to the country, with more than half a million arrivals, data from the embassy show.
Russia
After his dialogue with his South Korean counterpart, Duterte's last one-on-one meeting on Monday was with Russian Prime Minister Dmitry Medvedev, who said Moscow is ready to develop its ties with the Philippines in the areas of politics, cultural, trade and economic cooperation.
"We'll keep standing by your side. We'll keep assisting you," Medvedev said.
Among the agreements signed by Russian and Filipino officials were:
Treaty on Mutual Legal Assistance in Criminal Matters
Treaty on Extradition
Memorandum of Understanding on Cooperation between the Department of Energy and the State Atomic Energy Corporation "Rosatom" of the Russian Federation
Memorandum of Understanding on Cooperation in the Field of Mass Communications
Memorandum of Understanding on the Development of Cooperation in Transport Education
Memorandum of Understanding between the Commission on Higher Education of the Republic of the Philippines and the Ministry of Education and Science of the Russian Federation
Memorandum of Understanding between the Intellectual Property Office of the Philippines and the Federal Service for Intellectual Property of the Russian Federation
Agreement on Cooperation between the Commission on Audit of the Republic of the Philippines and the Accounts Chamber of the Russian Federation
Agreement of Cooperation and Partnership between Philippine company Vi Holding LLC and Russian company Global Ferronickel Holdings Inc.
"We have started an improvement of our friendship and the plan increases of our trade, expand it and I know that your country is seriously considering all of these things and we are happy that we can find a new market in the Eurasian front," Duterte, in turn, said.