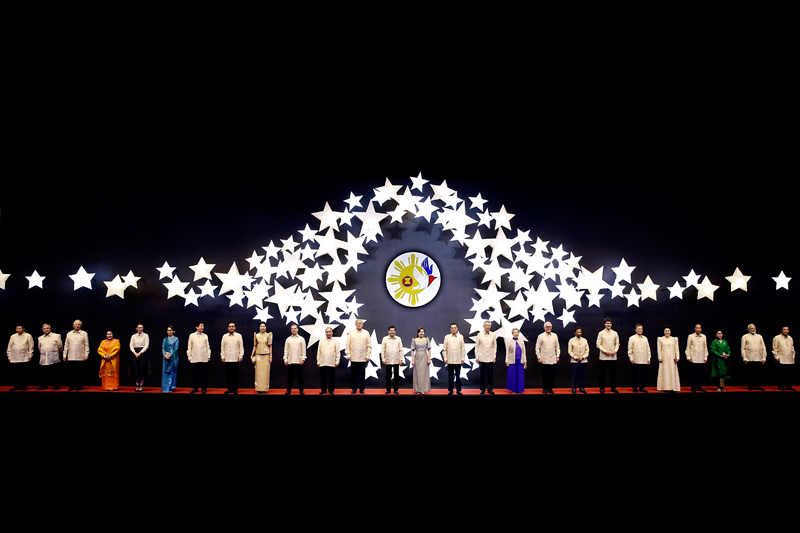 Family photo: President Duterte and his partner Honeylet pose with barong-clad Asean leaders and regional partners for a photo before the gala dinner last night at the SMX Convention Center. AP
Pinoy hospitality showcased at gala dinner
Helen Flores
(The Philippine Star) - November 12, 2017 - 4:00pm
MANILA, Philippines — Leaders of the Association of Southeast Asian Nations and dialogue partners looked elegant in their Philippine formal attire as the government pulled out all stops in showcasing Filipino hospitality at the special gala dinner for the heads of state and delegates of the 31st ASEAN Summit and Related Meetings.
Eighteen heads of state, including US President Donald Trump, donned barong tagalog and modern Filipiniana by top Filipino designers Rajo Laurel, Albert Andrada and Randy Ortiz in the event sponsored by Malacañang at the SMX Convention Center in Pasay City last night.
Myanmar de facto leader Aung San Suu kyi wore a blue-green traditional Burmese dress.
The world leaders started arriving at the venue at around 6 p.m.
The dinner, graced by some 1,300 guests, was scheduled at 7:30 p.m. but the program started at around 8:19 p.m.
President Duterte and partner Honeylet Avanceña welcomed the leaders and their spouses, and posed for a group photo.
Trump, who came without First Lady Melania Trump, sat beside Duterte.
"It is my peasure to welcome you all to Manila… I am deeply honored to host this rare occasion of the 50th anniversary of ASEAN," Duterte said in his speech before offering a toast.
"I look forward to having constructive and having substantive discussion in the upcoming meetings," he said.
Other leaders who attended the dinner were Cambodia Prime Minister Hun Sen, Singapore Prime Minister Lee Hsien Loong, Russia Prime Minister Dmitry Medvedev, Canadian Prime Minister Justin Trudeau, Myanmar State Counsellor Aung San Suu Kyi, Thailand Prime Minister Prayut Chan-o-cha, India Prime Minister Narendra Modi, Brunei Sultan Hassanal Bolkiah, New Zealand Prime Minister Jacinda Ardern, Australian Prime Minister Malcolm Turnbull, South Korea President Moon Jae-in, Indonesian President Joko Widodo, Japanese Prime Minsiter Shinz? Abe, Malaysia Prime Minister Najib Razak, Vietnam President Tr?n ??i Quang, Chinese Premier Li Keqiang, United Nations Secretary-General Antonio Guterres and Lao People's Democratic Republic Prime Minister Thoungloun Sisoulith.
European Union President Donald Tusk and Timor Leste Prime Minister Rui Maria de Araujo missed the dinner as they are set to arrive in the country today.
World-class performers from the Philippines and other Southeast Asian nations serenaded the guests, while they enjoyed the sumptuous four-course Filipino-Asian dinner by renowned chef Jessie Sincioco, with the help of Sofitel Philippine Plaza.
Among the performers last night were Duterte's supporter Freddie Aguilar, who sang his signature song "Anak."
Duterte even joined Asia's Queen of Songs Pilita Corrales in singing his favorite song, "Ikaw."
"I sang together with Pilita Corrales upon orders of the President of the United States," Duterte said.
The leaders and other guests were served ensaladang ubod at alugbati (heart of palm and Malabar spinach salad) with tamarind vinaigrette dressing and sinigang na maya maya sa miso (soured red snapper in miso broth).
For the main course, they had choices of bistek sushi (slices of grilled US Black Angus beef tenderloin marinated in soy-calamansi) with sushi rice and caramelized onion rings served on grilled eggplant and Asia salad or charcoal grilled apahap fillet with tomato-mango sambal.
For dessert, guests were served budin, a Filipino caramel flan.
Apart from the world leaders, former presidents Gloria Macapagal-Arroyo and Fidel Ramos, members of the Duterte Cabinet and lawmakers also joined the lavish welcome dinner.
The leaders and their spouses received coffee mugs with two bags of coffee beans, dubbed "ASEAN Blend," as souvenirs.
9 heads of state arrive at Clark
Before the gala dinner, nine state leaders attending the summit arrived one after the other at the Clark International Airport in Pampanga yesterday.
Those who arrived from 10:30 a.m. to 4:30 p.m., in order, were Sisoulith, Razak, Widodo, Ardern, Trudeau, Lee Hsien Loong, Chan-o-Cha, Turnbull and Vietnam Prime Minster Nguyen Xuan Phuc.
But unlike Sen and Suu Kyi, who arrived a day earlier, the Sunday arrivals did not have a Kapampangan dinner at Clark.
Philippine Information Agency – ASEAN Secretariat information officer Carlo Lorenzo confirmed that the heads of state of Cambodia and Myanmar attended the dinner hosted for them by former president and current Pampanga Rep. Gloria Macapagal-Arroyo at the Midori Hotel at Clark last Saturday night.
A menu for the dinner indicated that the two leaders were served mostly Kapampangan fare, including hipon sa tanglad or poached shrimp cocktail with picco de galla salsa as appetizer, mango and pako salad, suam na mais at halaan soup and, for the main course, red snapper fillet in coconut cream served with rice and roasted pumpkin. Dessert was leche flan, ginataang bilo bilo and buko pandan.
At intersections from the main Roxas highway, traffic buildup was heavy as security organizers locked down areas to allow the convoys to immediately reach the Subic-Clark-Tarlac Expressway (SCTEX) toward Manila.
Irate motorists delayed by the ASEAN convoys vented their ire on social media, some of them directing their posts to President Duterte whom they quoted to have even cursed the Asia-Pacific Economic Cooperation Summit and Pope Francis for heavy traffic in 2015 before he became president.
One netizen even quoted Duterte to have said that the APEC summit should have been held at Subic freeport which hosted the meeting during the Ramos administration.
NAIA arrivals
Meanwhile, at the Ninoy Aquino International Airport (NAIA), Guterres arrived at the terminal 3 yesterday at around 10 a.m. aboard a commercial flight of Cathay Pacific from Hong Kong. He was welcomed by ASEAN 2017 National Organizing Committee director general Marciano Paynor, Philippine representative to the UN Teddy Locsin Jr. and presidential spokesman Harry Roque.
The Japanese Air Force One carrying Abe landed also at the NAIA around 1:25 p.m. He was met by Transportation Secretary Arthur Tugade, Undersecretary for Aviation Antonio Tamayo, Manila International Airport Authority (MIAA) General Manager Ed Monreal and Paynor. – With Ding Cervantes, Rudy Santos, Paolo Romero