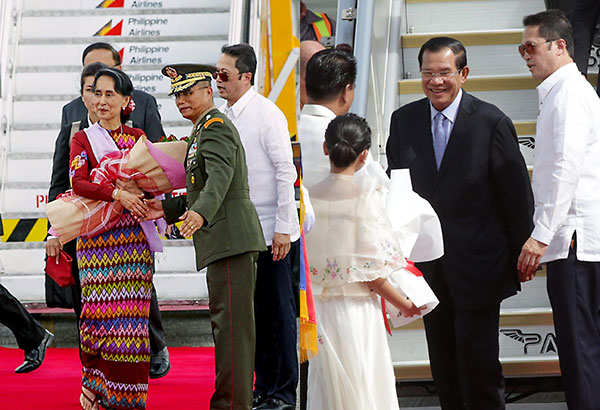 State Counsellor Aung San Suu Kyi of Myanmar (left) and Cambodian Prime Minister Hun Sen arrive at the Clark International Airport in Pampanga yesterday for the 31st ASEAN Summit.Geremy Pintolo, Ernie Peñaredondo
Early birds arrive at Clark for Asean summit
Janvic Mateo
(The Philippine Star) - November 11, 2017 - 4:00pm
MANILA, Philippines — Several world leaders started arriving yesterday for the summit of the Association of Southeast Asian Nations (ASEAN) and its dialogue partners in Manila this week.
Cambodian Prime Minister Hun Sen and Myanmar State Counsellor Aung San Suu Kyi arrived yesterday afternoon at the Clark International Airport.
Among those who welcomed them were former president and Pampanga Rep. Gloria Macapagal-Arroyo, Defense Secretary Delfin Lorenzana and Pampanga Gov. Lilia Pineda.
Twenty leaders from ASEAN and its dialogue partners are expected to arrive this weekend for the 31st ASEAN Summit and Related Meetings.
Other ASEAN leaders who will attend the summit include Sultan Hassanal Bolkiah of Brunei, President Joko Widodo of Indonesia, Prime Minister Thongloun Sisoulith of Laos, Prime Minister Najib Razak of Malaysia, Prime Minister Lee Hsien Loong of Singapore, Prime Minister Prayut Chan-o-cha of the Kingdom of Thailand and Prime Minister Nguyen Xuan Phuc of Vietnam.
World leaders who will be in the country include United States President Donald Trump, Prime Minister Malcolm Turnbull of Australia, Prime Minister Justin Trudeau of Canada, Premier Li Keqiang of China, Prime Minister Shinzo Abe of Japan, Prime Minister Narendra Modi of India, Prime Minister Jacinda Ardern of New Zealand, Prime Minister Dmitry Medvedev of Russian and President Moon Jae-in of South Korea.
European Council President Donald Tusk of the European Union and United Nations Secretary-General Antonio Guterres are also expected to attend the summit.
An earlier report said that at least seven world leaders – including Trump, Li, Abe, Moon and Bolkiah – will arrive at the Ninoy Aquino International Airport.
Details of the world leaders' arrivals were not disclosed for security purposes.
Many of the world leaders will fly in from Vietnam where they gathered for the annual Asia-Pacific Economic Cooperation (APEC) summit.
President Duterte was among those who attended the APEC summit, where he met with Trump, Chinese President Xi Jinping and Russian President Vladimir Putin.
Both Xi and Putin will miss this year's East Asia Summit (EAS) in Manila, which will be held on Wednesday after the ASEAN summit.
Trump earlier scheduled to leave after the ASEAN summit, but decided to extend his trip for one day to attend the EAS.
DILG ensures safety of delegates
The government yesterday assured the safety of the heads of state and other delegates of the ASEAN summit from active shooters similar to the one who killed 58 people in Las Vegas last month.
Interior and Local Government officer-in-charge Catalino Cuy said despite the recent bad weather, members of the ASEAN Security Task Force (ASTF) still held a simulation exercise in response to an active shooting incident.
"Even with Typhoon Salome in the Philippine area of responsibility, I'm very please that our security personnel showed us what they are really made of when they were able to respond quickly to the active shooters during the exercise," said Cuy, chairman of the Committee on Security, Peace and Order and Emergency Preparedness and Response.
The scenario during the drill last Wednesday involved two armed men shooting at bystanders while attempting to occupy a hotel in Pasay City.
Elite forces from the Armed Forces of the Philippines, Philippine National Police, Philippine Coast Guard and security personnel from the Presidential Security Group took part in the simulation exercise.
The security forces were "very much ready just in case an active shooting incident occurs during the summit," Cuy said.
Chief Supt. William Macavinta, team leader during the simulation exercise, said a quick response to an active shooting incident is necessary to limit to the number of victims.
"Shooting incidents like those that happened in Las Vegas, San Francisco in California and Resorts World are classic examples of active shooting incidents, which could happen anywhere, even during the summit. This is why we are doing all these exercises to test our skills and alertness so that we will be ready just in case a similar incident happens here," he added.
Government anti-terror agents have also heightened their intelligence monitoring and target-hardening operations in the National Capital Region (NCR) and Central Luzon to secure the ASEAN Summit.
"With the ASEAN Summit about to open, we have to exert more effort in running after suspected groups or individuals whom we believe have the capabilities and motives to commit acts of terrorism during and after the international avent," a senior anti-terror official said.
The anti-terror official said the arrest of suspected Abu Sayyaf bomber Abu Bakar Jikiri late Friday afternoon in Salam compound in Barangay Culiat, Quezon City was the result of sustained target-hardening operations against suspected terror suspects in Metro manila.
Law enforcers also arrested two suspected financiers of the Islamic State-inspired Maute local terrorists in Valenzuela and Novaliches last month.
"As per President Duterte's warning, we are not discounting the possibility that these terrorists are plotting revenge againt the government," the senior anti-terror official said.
Since majority of delegates have started arriving in the country, the Deparment of Health (DOH) has also elevated all its hospitals from Code White Alert to Code Blue Alert starting today.
Code Blue Alert means that 50 percent of the hospital personnel will have to report for duty to render medical and other services.
"It was Code White from Nov. 10 to 11 and it will be elevated to Code Blue from Nov 12 to 15 in National Capital Region, Central Luzon, and Calabarzon. These are the areas (affected by the) ASEAN," said DOH director for Health Emergency Management Service Gloria Balboa.
"These hospital personnel will augment the contingency deployed in the field or at the venues of the summit, billeting hotels and other concerned places," she added. – With Emmanuel Tupas, Sheila Crisostomo, Jaime Laude