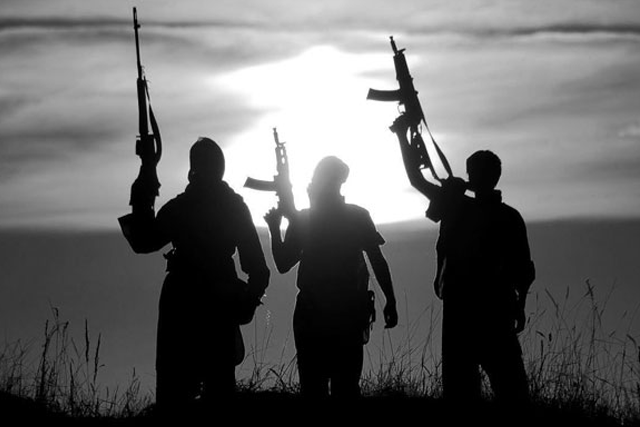 The joint operation was conducted by NICA, police and National Bureau of Investigation (NBI) agents at a house in a Muslim neighborhood. File
Sayyaf bomber, 2 others nabbed in Quezon City raid
Jaime Laude
(The Philippine Star) - November 10, 2017 - 4:00pm
MANILA, Philippines — A suspected Abu Sayyaf bomber and two others were arrested yesterday by agents of the National Intelligence Coordinating Agency (NICA) in a raid on a Muslim lair in Barangay Culiat, Quezon City.
Arrested inside his hideout at Salam Compound at around 5:15 p.m. was Abu Bakar Jikiri and two of his companions identified only as Hussein and Sabatalin.
"Hussein and Sabatalin appeared to be contacts of the suspect," a source said.
The joint operation was conducted by NICA, police and National Bureau of Investigation (NBI) agents at a house in a Muslim neighborhood.
Authorities recovered at the scene a firearm of still unknown caliber and an M203 rifle grenade.
"The apprehension was made in support of the Philippine National Police (PNP)'s simultaneous anti-criminality and law enforcement operations," the source said.
Right after their arrest, the three were taken to the Quezon City police headquarters at Camp Karingal.
As of yesterday, the three were undergoing tactical interrogation being conducted jointly by NICA agents from the Regional Intelligence Fusion Center-National Capital Region (RIFC-NCR), the NBI anti-terror unit and the police.
"NICA and NBI agents along with the police are currently questioning them for possible launching of follow-up operations," he said.
The source said the arrest of Jikiri was part of ongoing security preparations aimed at disrupting any possible terrorist plot against next week's Association of Southeast Asian Nations (ASEAN) summit in Manila and at Clark Field in Pampanga.
Government security forces have been placed on high terror alert to secure arriving ASEAN leaders in the country starting tomorrow.