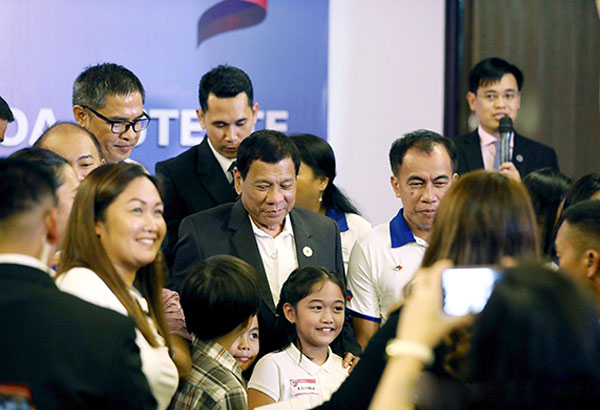 President Duterte meets with the Filipino community in Vietnam on Thursday night.
Rody offers to host HR 'world summit'
DA NANG – Why single him out?
President Duterte, under fire for his ruthless war on the drug menace, said he is willing to host a global summit on human rights violations, to emphasize that the problem is not unique to the Philippines.
"Let us investigate all violations of human rights committed by all governments. I said, just because it happened 40 years ago, it happened 100 years ago – when it was wrong then, it is definitely still wrong now," he said here the other night.
Duterte said he wants to lead the summit on human rights, which should focus not only on his administration, but also on those countries where there were reports of human rights violations.
He said the summit would "not zero in on me. Why only me? There are so many violations of human rights, including in the United States, including the continuous bombing in the Middle East killing civilians – even the children and their schools."
Rather than focus on the Philippines, Duterte wants every nation held accountable for human rights violations during his proposed summit.
Duterte has been vocal to his critics, whom he always challenged to look into their own problems rather than meddle in Philippine affairs.
"Mine is just a small list. So let's have a summit of how we can protect the human rights for all the human race," Duterte said.
Duterte frowned at the call of US congressmen James McGovern and Randy Hultgren who cited information gathered by a congressional commission showing that 7,000 suspects were killed in the past one and a half years of his administration.
"We are here attending an international summit. Why would we talk about the Philippines? What makes the death of people in the Philippines more important than the rest of the children in the world that were massacred and killed?" he asked.
"So we could… we should call a summit. And I can… I will volunteer to make the Philippines the venue," Duterte said.
Slap Callamard
Duterte added he would invite United Nations special rapporteur Agnes Callamard to be one of the guests.
"I would call first Callamard. I have not heard you comment on the so many killings, the victims of bombs and of violence there in the Middle East," he said, reiterating his earlier rants against the UN rapporteur for singling him out.
"What have you been doing all the time? Why are you so fascinated with drugs? And you also should take note that there are plenty of Americans who died because of drugs," he asked.
Duterte said he would slap Callamard in the face if she pushes through investigating him.
He slammed Callamard for talking with a doctor who discussed the supposedly harmless effects of the use of drugs.
Duterte then presented the UN report titled "International Narcotics Control Board Precursors and Chemicals Frequently Used in the Illicit Manufacture of Narcotic Drugs and Tropic Substances 2014."
"I will not slap her in front of you. Why? Because you're insulting me. Why? Because you yourself do not believe in the research of your own organization. You are f****** me and I do not want it," Duterte said.
Duterte blamed other nations for allowing some individuals to have access to drugs.
"You need not really zero in on the police. But how about the doctors who prescribed them? They are responsible now for those guys who are really reckless. They should also be investigated by the human rights," Duterte said.
"You must (be) crazy. They are the ones who did it. You cannot get it without a prescription. So who's the culprit? See," he said.
Talk about it later
Duterte made the statement in a press briefing here late Thursday. He said he would tell US President Donald Trump to set aside the issue of human rights since they will have a bilateral meeting in Manila.
"Well, I would like to say that if the issue of human rights (crops up), I'll say, 'we'll just talk about it later.' We should have a summit only on human rights. But we should call all," he said.
Duterte and Trump are among the world leaders attending the Asia-Pacific Economic Cooperation summit here.