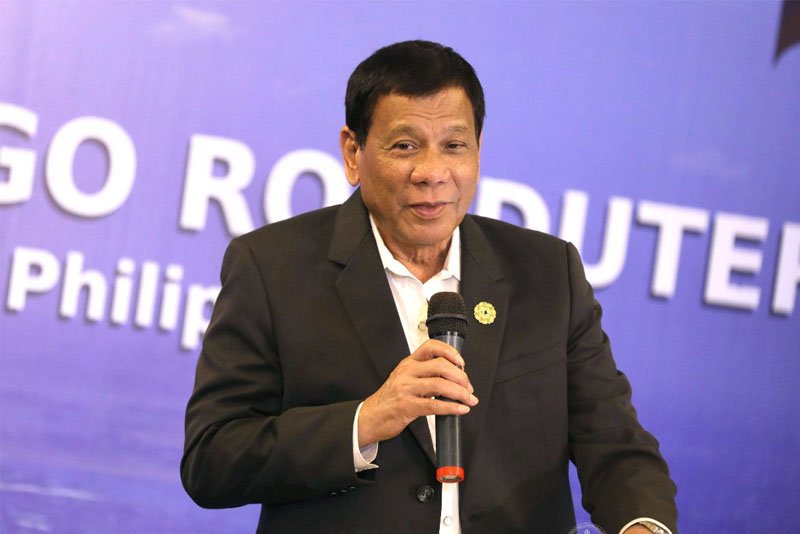 President Rodrigo Roa Duterte makes a remark during the meeting with Filipinos residing in Vietnam at the Pulchra Resort in Da Nang City on November 9, 2017. KARL NORMAN ALONZO/PRESIDENTIAL PHOTO
'Colorful language': Duterte tells Pinoys in Vietnam he killed at 16
(philstar.com) - November 10, 2017 - 3:43am
Roque: It's just colorful language
MANILA, Philippines — To show he is not afraid to be thrown behind bars amid mounting deaths under his brutal drug war, President Rodrigo Duterte on Thursday claimed he stabbed someone to death at the age of 16.
"At the age of 16, may pinatay na ako eh. Tao talaga. Rumble. Saksak. Noon 16 years old 'yun. Nagkatinginan lang (At the age of 16, I already killed. A real person, in a rumble, by stabbing. When I was 16, over a dirty look)," Duterte said in a freewheeling speech before Filipino expats in Vietnam.
"Kulong? Ay sus. Kulong nung teenager ako, pasok, labas, pasok ako sa kulungan (Jail? Jesus. When I was a teenager, I was in and out of jail)," he added.
Presidential spokesperson Harry Roque said Duterte's remarks were made "in jest."
"The President uses colorful language when with Pinoys overseas," Roque said.
The president is known for making off-color remarks and controversial pronouncements that would later on be dismissed as a joke or put "in context" by his spokespersons.
READ: Palace: Use 'creative imagination' to interpret Duterte remarks
This was not the first time the firebrand leader claimed of killing someone and committing other acts of violence.
In an interview with Esquire magazine in 2016, Duterte said he might have killed a man in a drunken beach brawl at age 17. "Maybe I stabbed somebody to death," he said.
As a Davao City mayor, Duterte said he once tossed out kidnap suspects from a helicopter in mid-flight. In 2015, Manny Piñol, Duterte's agriculture chief, said the president once forced a tourist who violated a smoking ban to eat his cigarette butt at gunpoint.
In a report by the New York Times published last March, Duterte's brother, Emmanuel, said the maverick leader hung out with the "toughest kids" and got into fights.
"By 15, he was carrying a gun," Duterte's brother told the New York Times.
Meanwhile, in the same speech on Thursday, Duterte said if he can kill as a teenager, what more as a president?
"Eh lalo na ngayon Presidente ako. You f*** with my countrymen, hindi kita palulusutin. Bahala na kayong human rights (Especially now that I'm a president. You f*** with my countrymen, I will not let it slide. I don't care about human rights)," he said, drawing laughter from his audience.
READ: Palace to US House panel: We adhere to rule of law, protect human rights
Duterte—who easily won the race to Malacañang last year on a promise to use deadly force to wipe out crime and drugs—has stoked international alarm over the violent drug war, which enjoys popularity among many Filipinos and most politicians.
Human rights watchdogs said most of the fatalities in the campaign are extrajudicial killings committed by cops and unknown assailants—a claim that the government has vehemently denied by insisting that police are only killing in self-defense.
Filipinos have mostly backed Duterte's drug war even as critics condemned the spate of killings. But the recent deaths of three teenagers — two of wom died in the country's capital region — have triggered rare street protests and highlighted concerns about alleged police abuse.