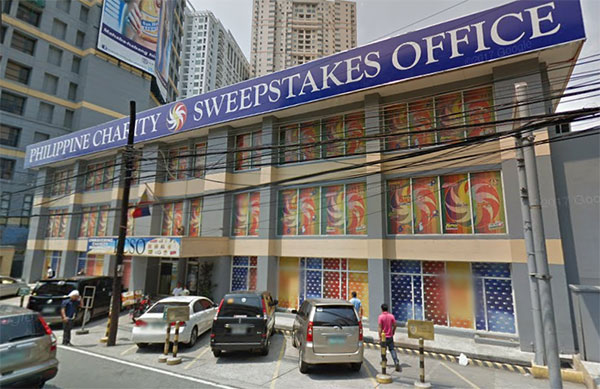 In the joint statement of Chairman Jose Jorge Cruz and General Manager Alexander Balutan, PCSO said the said benefits were covered by various approvals from the previous presidents since the administration of Fidel Ramos. GOOGLE MAPS
PCSO: Questioned perks essential components of officials, employees' benefits
(philstar.com) - October 31, 2017 - 10:43am
MANILA, Philippines — The Philippine Charity Sweepstakes Office on Tuesday said the supposed unauthorized benefits identified by the Commission on Audit have been "part and parcel" of what employees and officials receive for over two decades.
In the joint statement of Chairman Jose Jorge Cruz and General Manager Alexander Balutan, PCSO said the benefits were covered by various approvals from the previous presidents since the administration of Fidel Ramos.
Although it defended the said benefits, PCSO explained that the gaming firm has immediately suspended and stopped the releases or grant of these questioned benefits to its officials and employees.
"The PCSO management will continue to abide with this instruction and our employees fully support the same," the firm said.
It added: "On the other hand, we completely trust that this issue will be settled judiciously and fairly by observing the appeals mechanisms laid down under the COA Rules of Procedure."
READ: COA: PCSO employees, officials got P500M in unauthorized bonuses in 2016
This came as a response to COA's 2016 Annual Financial Report on Government Owned and Controlled Corporations, which identified PCSO as the state firm with the highest unauthorized allowances and bonuses granted to its officials and employees amounting P518.314 million.
Of the said amount, P503.667 million was for "payments of allowances, bonuses and other benefits that were not supported by sufficient legal basis," while the remaining P14.647 million "pertains to payments of allowances that were in excess of prescribed rates."
The state auditors said the allowances and other perks were given despite the gaming firm's unsettled disallowances from the previous years totaling P1.213 billion, which also stemmed from infractions of government compensation rules.
PCSO noted that the notices of disallowances issued by COA are still not final as many of these are pending appeals.
Based on the COA report, the PCSO's 2016 pay package to its officials and employees includes the following: Christmas bonus (P151.174 million), educational assistance bonus (P123.817 million), grocery bonus (P71.08 million), weekly draw allowance (P60.267 million), hazard pay given to non-public health workers (P27.535 million), revenue performance incentive pay (P23.222 million) and some smaller amounts of allowances and anniversary bonus.
Other state firms identified in the COA report to have granted perks without legal basis were Small Business Corporation (P46.448 million), National Electrification Administration (P23.683 million), Philippine Coconut Authority (P11.475 million), National Food Authority (P10.097 million), Apo Production Unit Inc. (P7.45 million), Human Settlements Development Corp. (P2.085 million) and Intercontinental Broadcasting Corp. or IBC-13 (P219,000).