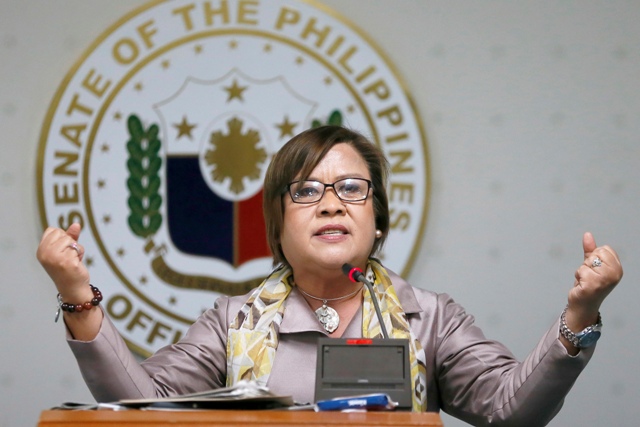 In a statement, detained Sen. Leila de Lima said President Rodrigo Duterte is not interested in catching real drug lords as he is "merely using his notorious drug war as a platform for vengeance against the political oppositions." AP/Bullit Marquez
'Catch real drug lords, not fictitious ones,' Duterte told
(The Philippine Star) - October 30, 2017 - 9:42am
MANILA, Philippines — Instead of targeting imaginary drug lords, President Rodrigo Duterte should investigate the drug smugglers supposedly living inside his household, Sen. Leila de Lima said on Monday.
In a statement, de Lima said Duterte is not interested in catching real drug lords as he is "merely using his notorious drug war as a platform for vengeance against the political oppositions."
Duterte should investigate his son and son-in-law instead of going after fictitious drugs lords which include Sen. Franklin Drilon, former Interior and Local Government chief Mar Roxas and dismissed Iloilo Mayor Jed Mabilog, she said.
"He should go after the real drug lords. In order to do this, Mr. Duterte does not even have to go that far. Apparently, the drug smugglers are living right inside his own household," de Lima, who is detained for drug-related charges, said.
Duterte's son Davao City Vice Mayor Paolo Duterte and son-in-law Manases Carpio were both tagged by Sen. Antonio Trillanes IV as the individuals behind the alleged Davao Group.
De Lima made the statement after Ricky Serenio, a confessed bagman of the so-called Berya drug cartel, claimed in an affidavit that Drilon and Roxas were protectors of slain suspected drug dealer Melvin Odicta Sr.
Odicta reportedly controlled the narcotics trade in Iloilo City, according to Serenio in an affidavit he submitted to La Carlota City prosecutor's office in Negros Occidental last October 18.
READ: Drug suspect tags Drilon, Roxas as protectors
In a statement Saturday, LP decried anew the allegations linking the two stalwarts to the narcotics trade, saying the accusation was a ploy by the Duterte administration to hide its "own horror stories."
"The move to link several prominent Liberal Party members to illegal drugs is their attempt to cover their lack of governance, which requires hard work, facts, and truth," the former ruling-party said in a statement.
In a Facebook post, Roxas said he was shocked at the brazenness of his accuser to invent lies about him.
"Sabi nga ng mga kids ngayon, petmalu ng imagination (As kids say nowadays, incredible imagination)!" Roxas, who was LP's standard bearer in last year's elections but lost to President Duterte, said.
He added: "I don't know nor have I any dealings with Serenio nor Odicta; as in zero."
READ: LP: Drilon-Roxas 'drug links' tactic of Duterte admin to conceal 'own horror stories', LP: Drug links aim to demonize party