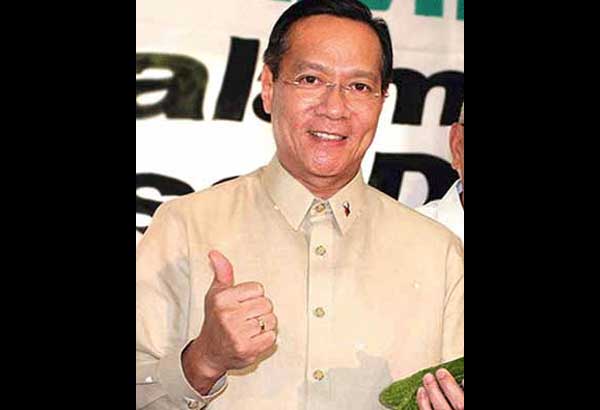 "Our priority program now is to help rebuild Marawi. We have to make sure that we can address the health needs of the people there, especially the damaged health delivery infrastructure," Secretary Francisco Duque III stressed. File
Strengthening Marawi's health system Duque's priority
MANILA, Philippines — The rebuilding of Marawi City and strengthening of its health system will be the initial priority of Secretary Francisco Duque III as he returns as secretary of the Department of Health (DOH).
He said the city's rehabilitation is one of President Duterte's standing orders when he was tapped to go back to the DOH.
"Our priority program now is to help rebuild Marawi. We have to make sure that we can address the health needs of the people there, especially the damaged health delivery infrastructure," Duque stressed.
The new health chief added that he was not expecting to be appointed to the DOH once again, but is "very thankful" to Duterte for the new opportunity "to serve poor patients."
For his long-term strategy, Duque intends to prioritize the reduction of the country's maternal mortality rate that, as of last year, was at 204 per 100,000 live births. To him, this is a far cry from the 54 per 100,000 live births targeted then.
"We have not met our commitment to reduce it under the Millennium Development Goals and now Sustainable Development Goals. We really have to invest more to save our mothers," the secretary pointed out.
Aside from this, he also intends to ensure that quality health services are accessible to all Filipinos – a goal he wants to achieve by making the Philippine Health Insurance Corp. (PhilHealth) "more sustainable."
"We want to have more benefit packages but we have to balance this with actuarial solvency. It's easy to come up with more programs but we have to make sure that it will not shorten the lifespan of PhilHealth," Duque added.
Former DOH secretary Paulyn Ubial, whose appointment was rejected by the Commission on Appointments, as well as various health groups welcomed Duque's return to the department.
"I congratulate my boss, Sec. Francisco Duque III, for getting re-appointed. Mabuhay! I will support him as he had supported me," posted Ubial in her Twitter account.
Framework Convention on Tobacco Control Alliance Philippines executive director Maricar Limpin said they are "happy with Sec. Duque's appointment as he has been very supportive and firm in his mandate as health secretary" during his first stint at DOH.
"We are looking forward to working harmoniously with him, especially in our current move to include higher tobacco tax in TRAIN (Tobacco Reform for Acceleration and Inclusion)," Limpin added.
Commission on Population executive director Juan Perez III said Duque's appointment is welcome because "it will move the health agenda program again."
"I know Sec. Duque personally and I think he will do well for the health sector as he did during his first term. He has an approach that is sector wide so I think his approach is more to improve the health system comprehensively," Perez added.