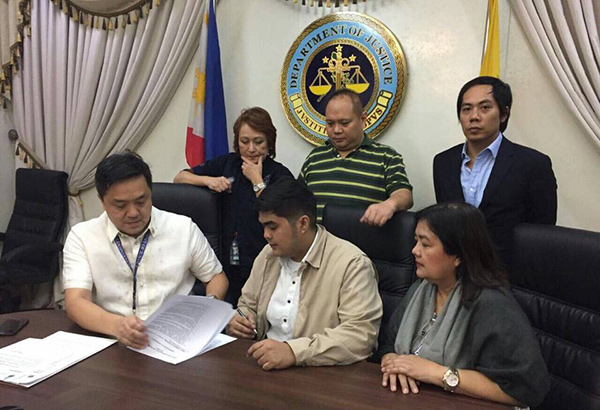 Mark Ventura, a former officer of Aegis Juris, went to Aguirre's office on Tuesday and submitted a tell-all affidavit on what transpired during Castillo's hazing at the fraternity library on Sept. 17.
Aegis Juris member turns witness, tags brods
Edu Punay
(The Philippine Star) - October 25, 2017 - 4:00pm
MANILA, Philippines — First came the punches, followed by repeated blows from paddles. At the end of nearly four hours of beating at the hands of Aegis Juris fraternity members, neophyte Horacio "Atio" Castillo III passed out. His fraternity "brothers" tried but failed to revive him – with hot melted candle wax.
The details were provided by one of those who took part in the fatal hazing of the University of Santo Tomas (UST) law freshman and has turned state witness, Justice Secretary Vitaliano Aguirre II announced yesterday.
Mark Ventura, a former officer of Aegis Juris, went to Aguirre's office on Tuesday and submitted a tell-all affidavit on what transpired during Castillo's hazing at the fraternity library on Sept. 17.
Accompanied by his mother and a lawyer, Ventura was immediately placed under the witness protection program (WPP).
"Ventura's decision to be admitted into our WPP is a most welcome development in this case as we all endeavor to give justice to Atio's demise," Aguirre told journalists.
In his affidavit, Ventura identified his fraternity brothers who participated in the initiation rites as well as those who were present but did not participate in the hazing.
Ventura revealed that prior to the violent hazing, Castillo went through a week of "service," wherein the neophyte was subjected to psychological and physical tests – humiliation, slapping, doing tasks and running errands for the members.
Ventura admitted he was the second master initiator and was with 10 other members of the fraternity during the initiation rites that started at around 1 a.m.
Ventura, one of 37 respondents charged with murder and hazing before the Department of Justice (DOJ), said they punched Castillo for about an hour until the neophyte's arms swelled.
They tapped Castillo's arms with medical spatulas to reduce the swelling and calm the muscles, before hitting him with paddles.
After the third hit, the initiators asked Castillo if he could still endure the process, to which the victim answered yes, according to the affidavit.
But after the fourth hit, Castillo collapsed. It was around 5 a.m.
One of the fratmen suggested dripping candle wax on Castillo's body to see if he would response to pain. It failed to revive the neophyte.
Ventura said they then summoned a member with medical background, John Paul Solano, to help revive Castillo, who still had a pulse.
They carried Castillo to a pickup truck and were set to bring him to a nearby hospital when Solano arrived.
They decided to bring Castillo back to the library to see if Solano could revive him.
When everything failed, Ventura said, they brought Castillo to the Chinese General Hospital, where the neophyte was declared dead on arrival.
Aguirre said Ventura's testimony was credible and could stand in court even without corroborative testimony of another witness.
Other members of the fraternity who were in the library but did not stop the hazing can also be held liable under the law, Aguirre said.
He said Ventura identified more fraternity members involved in the hazing who have not been previously named. Aguirre said he would issue another lookout bulletin to include the new suspects.
Aguirre said Ventura did not explain why he decided to come forward and testify against his fraternity brothers despite their strict code of silence.
"He said he is ready to face the consequences of his actions."
The DOJ earlier set up a hotline to search for a witness in Castillo's case.
Ventura submitted his statement to the DOJ on the day his fraternity brothers appeared at a preliminary investigation and denied charges of murder, violation of Republic Act 8049 or the Anti-Hazing Law, perjury and obstruction of justice.
Solano and the other respondents claimed that Castillo did not die of hazing but of cardiac failure due to his pre-existing hypertrophic cardiomyopathy condition.
Solano's claims infuriated senators, who said he and the accused were out to save their skins.
Sen. Juan Miguel Zubiri said regardless of any pre-existing condition, it was obvious that Solano and his lawyers were conjuring excuses for Castillo's murder.
Sen. Francis Escudero said Solano is not an expert to make such conclusions.
Sen. Joel Villanueva said no one would believe Solano's "stupid defense."