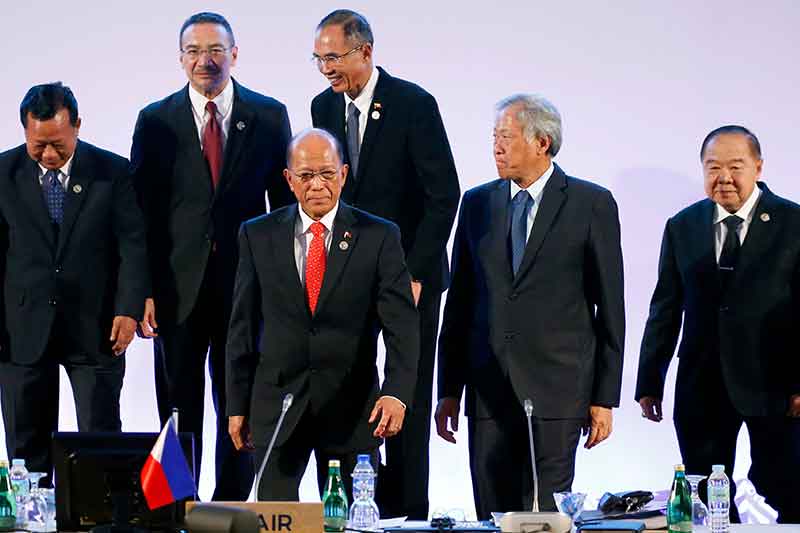 Philippines Defense Secretary Delfin Lorenzana, center foreground, walks back to his seat following a brief photo session at the start of the 11th ASEAN Defense Ministers Meeting Monday, Oct. 23, 2017 in Clark, Pampanga province north of Manila, Philippines. The annual meeting, which the Philippines is hosting this year, also includes its dialogue partners such as United States, Australia, Japan, South Korea, New Zealand and India. From left, Cambodian Defense Minister Tea Banh, Malaysia's Defense Minister Hishammuddin Hussein, Myanmar Defense Minister Lt.Gen. Sen Win, Singapore's Defense Minister Ng Eng Hen and Thailand's Defense Minister Prawit Wongsuwan. AP/Bullit Marquez
Lorenzana: China did not oppose ASEAN concerns in South China Sea
MANILA, Philippines — The Chinese Defense Minister did not oppose to the issues raised by his ASEAN counterparts regarding the disputed South China Sea during their meeting on Tuesday, Defense Secretary Delfin Lorenzana said.
Lorenzana said that the defense ministers of ASEAN member-states, as well as dialogue partners, including Australia, China, India, Japan, New Zealand, Russia, South Korea and the US discussed freedom of navigation and non-militarization in the South China Sea.
"Freedom of navigation, non-militarization, rules-based world following international rules and conventions — that's what came out," Lorenzana said in a televised press briefing.
"A lot of countries declared that they will continue to use the South China Sea, the waters and the air as they have been using them for the past decades," he added.
The defense ministers agreed to observe the framework of the code of conduct in the South China Sea, which is being crafted by claimant states.
"Even China did not also oppose all those statements so I think it's okay for China too because it's supposed to be open waters," Lorenzana said.
Lorenzana noted that almost $3.5 million worth of goods pass by the South China Sea every year so it would be convenient for claimant states to "keep it open."
China, Brunei, Malaysia, Taiwan, Vietnam and the Philippines have overlapping claims in the disputed waters.
On July 2016, an international tribunal ruled that China violated its obligations under the UN Convention on the Law of the Sea upon constructing artificial islands within the Philippines' exclusive economic zone.
The ruling also invalidated China's nine-dash line claim over the South China Sea.
Beijing, however, had refused to acknowledge the arbitration, insisting that they have indisputable sovereignty over the region.