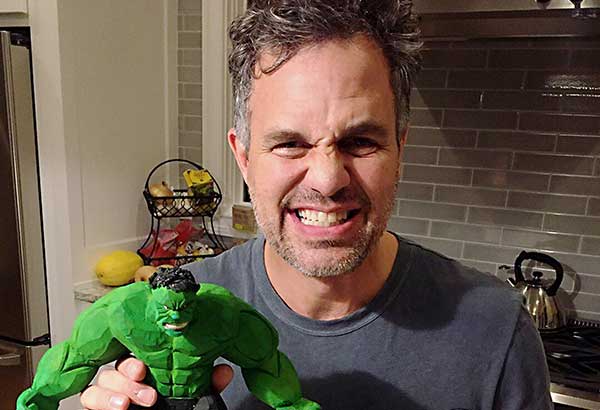 Image from Mark Ruffalo's Twitter account shows the actor holding a Hulk figure given to him by Elmer Padilla of Cavite. Padilla, a street vendor, derives extra income from turning worn-out tsinelas, or flip-flops, into action figures.
Hulk actor gets tsinelas figure from Philippines artist
Janvic Mateo
(The Philippine Star) - October 21, 2017 - 4:00pm
MANILA, Philippines — Hollywood actor Mark Ruffalo, known for portraying the Hulk in the Marvel cinematic universe, has received a unique gift from a Filipino artist: a Hulk figure made out of recycled tsinelas (flip-flops).
Ruffalo, also an environmentalist, posted an image of the recycled figure sent to him by Elmer Padilla of Cavite.
"Believe it or not, this #Hulk doll is made out of recycled tsinelas (that's Tagalog for flip-flops)," the actor said on his Twitter account.
"Elmer Padilla made this for me so I just wanted to give a nice shout- out. Not only is this inventively creative, but it's sustainable and just pure awesome! Thank you Elmer!" he added.
Ruffalo's post immediately went viral and has been shared more than 5,000 times. It was also liked by over 22,000 Twitter users as of yesterday afternoon.
Padilla was previously featured in various websites for his creative work.
A post in art, design and photography community website Bored Panda (http://bit.ly/2fIeraL) featured his other works, including Transformers character Bumblebee and Marvel superhero Deadpool.
"Flip flops are pure summer fun, but they're also a major water pollutant, and the Philippines is notorious for discarding vast amounts of them into the ocean," the article read.
"One Filipino street vendor is combating the problem and supporting his family at the same time by turning the dozens of worn-out flip flops he finds into wickedly cool action figures, and now everyone on the internet wants to buy them," it added.
A thread about Padilla on web content platform Reddit also received over 80,000 "up votes" and more than 1,300 comments.