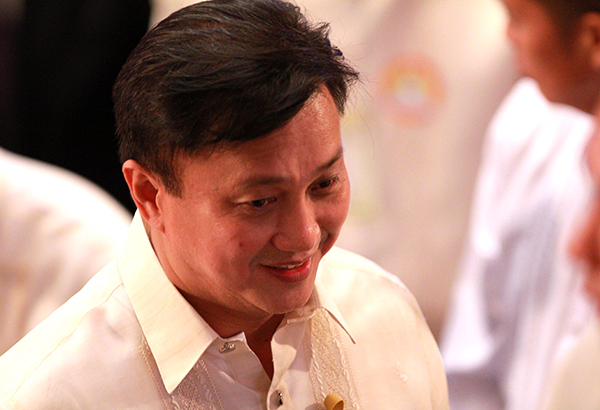 Former Metropolitan Manila Development Authority chairman Francis Tolentino got 12,518,891 votes, over a million less than Sen. Leila de Lima who clinched the 12th spot. Philstar.com/AJ Bolando, File photo
Irregularities uncovered during SET ballot recount vs De Lima – Tolentino
(philstar.com) - October 20, 2017 - 9:49am
MANILA, Philippines — Former Metropolitan Manila Development Authority chairman and incumbent presidential political adviser Francis Tolentino on Friday claimed that several irregularities were uncovered on the first three days of the ongoing ballot recount by the Senate Electoral Tribunal in connection with his electoral protest against detained Sen. Leila de Lima.
Tolentino arrived at the SET building inside the Commission on Audit compound in Quezon City Friday morning to personally observe the ongoing recount of the contested 635 ballot boxes containing ballots used during the May 9, 2016 automated senatorial elections.
The recount started on Wednesday in response to Tolentino's electoral protest filed last year seeking the nullification of the victory of De Lima who placed 12th in the 2016 senatorial race.
READ: Recount vs De Lima begins tomorrow
In a chance interview with reporters, Tolentino said several irregularities were observed by his legal team in the first three days of the recount.
For one, Tolentino said several ballot boxes in pilot precincts in Calbayog City in Samar contained ballots used during the 2013 midterm elections.
"There are ballots for 2013 elections. We are referring to the 2016 elections. So, we are questioning why several ballot boxes contain 2013 ballots," Tolentino said in a combination of English and Filipino.
"The 2013 ballots have different color, they also contain different names of candidates to be shaded. And I'm not a candidate in 2013...How come those 2013 ballots are mixed up with the 2016 ballots? They should have been removed from the ballot boxes after the 2013 elections unless there was an electoral protest," he added.
Tolentino said his camp will seek the nullification of vote results in the precincts where 2013 ballots were uncovered
Tolentino, who ran as an independent candidate, placed 13th in the senatorial race. He lost to De Lima by 1.2 million votes.
Tolentino said De Lima's lead over him seemed dubious as based on election history, the gap between the 12th and 13th placers are usually just around 40,000 votes.
"If you would review the previous elections, it was usually a close fight between 12th and 13th placers, with lead of around 40,000 votes. Last elections the lead suddenly ballooned to one million votes," Tolentino said.
Tolentino said the ongoing recount also showed that he got zero vote in several precincts in the areas of Isabela City, Sumisip, and Tabuan-Lasa in Basilan, in Datu Sinsuat, Parang, and Matanog in Maguindanao and in Turtle Island in Tawi-Tawi.
Tolentino said this seemed impossible and irregular as he even won in these provinces.
"For instance in Maguindanao, province-wide I won. So, it's statistically improbable that there are towns where you got zero vote because you won in the province," Tolentino said.
Tolentino said a recount of the ballot boxes in one precinct in Bocaue, Bulacan also showed that he won over De Lima, but the transmitted vote results on May 9, 2016 shows that he lost to the latter.
In Tolentino's electoral protest, his legal team, led by former University of the Philippines Law dean Pacifico Agabin, contested the results of the senatorial elections on various grounds, including but not limited to the change of computer hash codes which served as one of the grounds for the recent impeachment of Commission on Elections Chairman Andres Bautista by the House of Representatives last October 10.
De Lima did not file any counter-protest.
RELATED: Will 13th placer Tolentino fill Cayetano's vacant Senate seat?