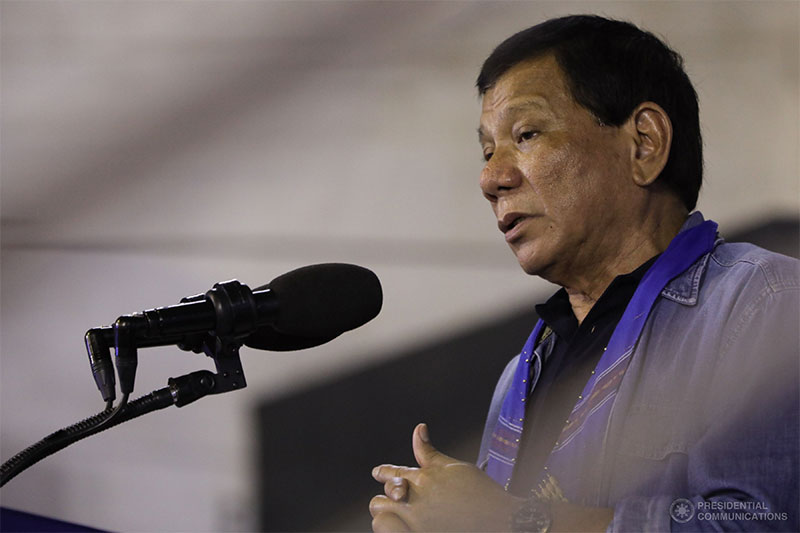 President Rodrigo Duterte said victims of illegal recruitment and human trafficking are suffering in other countries and are being treated like slaves. Presidential Photo/Karl Norman Alonzo, File
Rody likens illegal recruiters to drug traffickers
MANILA, Philippines — President Duterte has lumped illegal recruiters together with drug traffickers as he ordered a crackdown on their activities that have turned "Filipinos into slaves" abroad.
Duterte warned illegal recruiters that they would suffer the consequences of their actions.
"Stop your illegal activities because if you don't stop, somebody will stop you," the President said during the anniversary of a television program for overseas Filipino workers (OFWs) in Pasay on Wednesday.
"You know, if you try to bring out the worst in me, try these crimes and you would see the worst person in this planet. And I like it – being the worst person," he added.
Duterte ordered the National Bureau of Investigation (NBI) and Criminal Investigation and Detection Group (CIDG) of the Philippine National Police to run after illegal recruiters.
"Human trafficking is a serious problem that transcends borders. We all have a responsibility in making sure that this battle is won," he said.
Duterte said victims of illegal recruitment and human trafficking are suffering in other countries and are being treated like slaves.
"Our countrymen are tied to the bondage of slavery abroad. They are away from their families working as slaves," he said.
The President said he has been fighting illegal recruiters since he was mayor of Davao City.
Duterte said he issued a shoot-to-kill order against human traffickers after the parents of three Davao women sought his help because they could no longer get in touch with their daughters.
"Like the campaign against drugs, I have declared war on illegal recruiters," he said.
The President also reminded overseas Filipino workers (OFWs) to follow the laws of their host countries to avoid legal problems.
Remittances from Filipino migrant workers have been keeping the Philippine economy afloat as it continued to drive domestic demand.
Money sent home by OFWs hit $26.9 billion in 2016, higher than the $25.61 billion recorded in the previous year.