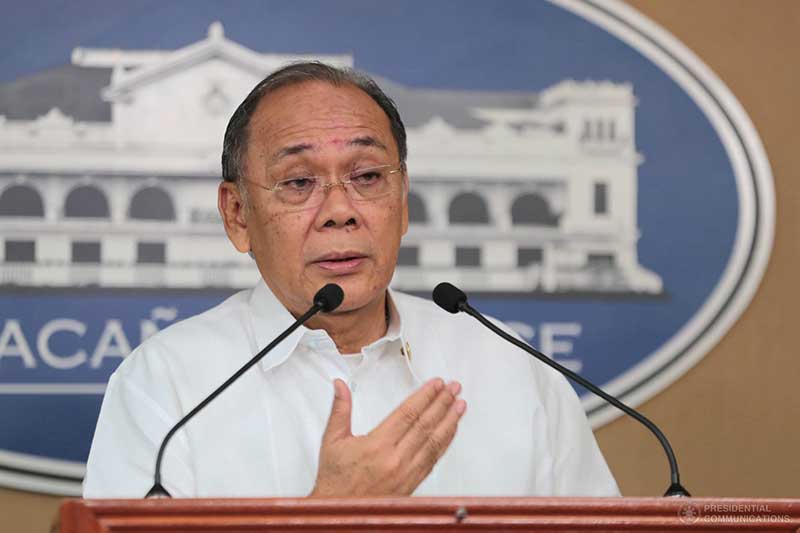 Commenting on Sen. Antonio Trillanes IV's travel, Presidential spokesperson Ernesto Abella said that the Palace is not privy to the senator's trip but hopes that Trillanes is relaying truthful information to his American counterparts. Presidential Photo
Palace hopes Trillanes giving 'correct information' to US officials
(philstar.com) - October 19, 2017 - 7:47am
MANILA, Philippines — Malacañang is hoping that Sen. Antonio Trillanes IV is feeding US officials with "correct information" after the lawmaker reportedly flew to the US to stop US President Donald Trump's November trip to the Philippines.
Trillanes, a staunch critic of President Rodrigo Duterte, reportedly met with US senators on a recent trip to the US to discuss the human rights situation in the Philippines amid the administration's widely criticized drug war.
READ: Trillanes in US to stop Trump visit to Philippines?
Commenting on Trillanes' travel, Presidential spokesperson Ernesto Abella said that while the Palace is not privy to the senator's trip, it hopes that Trillanes is relaying truthful information to his American counterparts.
"We do hope that the correct information has been given and not biased information designed to adversely affect US-Philippine relations," Abella said in a press briefing on Thursday.
Republican US Sen. Marco Rubio confirmed the meeting with Trillanes through his official Twitter account on October 18.
"Senator Trillanes and I discussed US-Philippines alliance, combating corruption and protecting human rights amid their narcotics crisis," Rubio tweeted.
To recall, Rubio and Democrat Sen. Benjamin Cardin earlier filed a bipartisan bill seeking to restrict arms sale to the Philippine National Police amid global concern over Duterte's bloody campaign against illegal drugs.
Last May, Cardin—together with 11 Democrat US senators—wrote a letter to Trump urging him to rescind his White House invitation to Duterte and cautioned that hosting the Philippine leader at the presidential residence could be interpreted as an "endorsement" of Duterte's "gross human rights abuses."
Trump is scheduled to hold bilateral meetings with Duterte and other leaders as he visits Manila next month for his Asian trip from November 3 to 14, the White House said.
READ: Trump to hold bilateral meeting with Duterte in Manila
The American leader is expected to arrive in Manila on November 12 to attend the special gala celebration dinner for the 50th anniversary of the Association of Southeast Asian Nations. The Philippine government earlier said that Trump will receive a "very warm welcome in Manila."
"President Duterte is looking forward to welcoming President Trump in Manila. Our people are excited to see the first face-to-face meeting between our two leaders," Foreign Affairs Secretary Alan Peter Cayetano said in a statement released September 30.
Ties between Manila and Washington soured during the Obama administration, which vehemently condemned Duterte's brutal war on drugs.
But the two countries' relations improved after Trump, whom critics accused of supporting Manila's controversial anti-drug campaign, praised Duterte for doing a "great job" in fighting illegal drugs.
READ: Transcript: In call, Trump praises Duterte's 'great job' on drug war