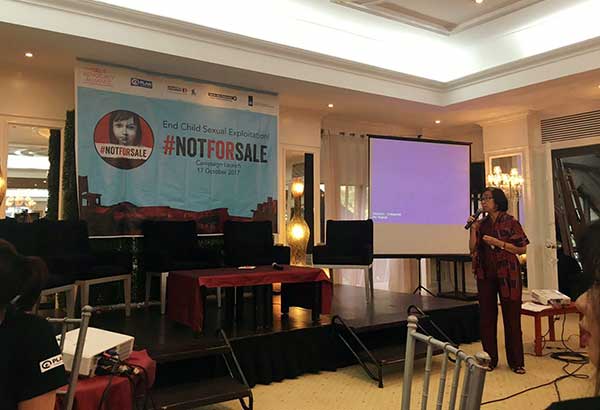 Plan International Philippines launches the report 'Children and the Sex Trade in the Digital Age' in Quezon City yesterday. SHEILA CRISOSTOMO
Streaming 'new phenomenon' in Philippines child sexual abuse — report
MANILA, Philippines — Online live streaming is the new phenomenon in the commercial sexual exploitation of children in the Philippines, a report of Plan International Philippines revealed yesterday.
Plan International Philippines country director Dennis O'Brien said that while commercial sexual exploitation of children is not new, "access to (the) internet and technology makes the children more vulnerable" to this abuse.
"Commercial and online sexual exploitation of children has become a social epidemic in the Philippines... We have easy, inexpensive internet access," he noted in yesterday's launching of the report "Children and the Sex Trade in the Digital Age."
O'Brien added that poverty remains the "main driver for the entry (of children) into the sex industry, but the Filipinos' proficiency in the English language has also been contributing to the problem."
"English is widely spoken in the Philippines so the children are able to meet demands all over the world. The stigma and fear associated with sexual exploitation are also there. These factors are coming together to create a perfect storm," he maintained.
O'Brien then underscored the need "to grapple with these challenges and do so urgently" and that a "21st-century problem needs a 21st-century approach."
Meanwhile, sexual exploitation of children happens in chatrooms, applications, electronic mail, websites and social networking sites, according to Psychosocial Support and Children's Rights and Resource Center executive director Elizabeth Castro.
She said that while the internet is the new pathway for child sexual abuse, "non-internet based" remains to be an option for transactions for commercial sexual activities.
"Now, you can have internet- and non-internet-based transactions. They can connect through the internet but there are also face-to-face transactions," she added.
The report showed that while there is usually sexual intercourse in non-internet based transactions, there is no direct contact in the "usual webcam live streaming."
"The traditional players in commercial sexual exploitation of children – the pimp, the client and the sex provider – still exist but their dynamics have changed largely because of technological advancements," Castro maintained.
Based on the report, the entry of children in commercial sex was "largely influenced by peers and the need to support one's family."
"The main reason for entry remained to be poverty but other reasons such as wanting to have extra money for personal wants such as clothes, gadgets, among others; getting involved in paid sex 'just to try' it were revealed by children and adolescents," the report stated.