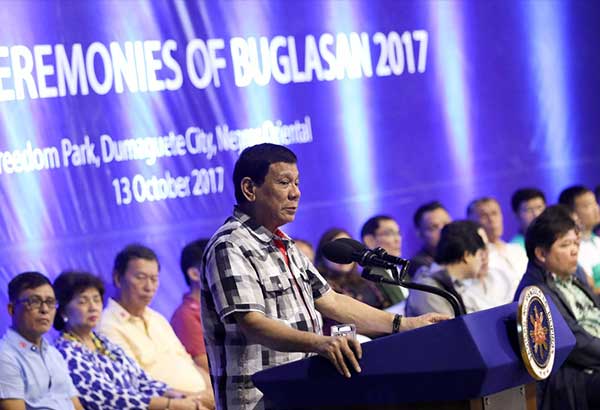 President Rodrigo Roa Duterte, in his speech during the opening ceremonies of the Buglasan Festival 2017 at the Lamberto Macias Sports and Cultural Center in Dumaguete City, Negros Oriental on October 13, 2017, echoes his duty to protect and preserve the Filipinos. ROBINSON NIÑAL JR./PRESIDENTIAL PHOTO
'If PDEA fails, UN can help solve drug woes'
MANILA, Philippines — Disappointed by the meddling of the United Nations in his drug war, President Duterte said he would be asking the body to look for a better solution for the country's vast problem on illegal drugs if the Philippine Drug Enforcement Agency (PDEA) fails to make a dent in the menace by next year.
In a speech in Camarines Sur last night, Duterte said the members of the UN have been critical of his drug war, which has been marred by killings since he was elected into office.
"We will go to the United Nations, (and the) human rights (activists)… we will ask them to solve the problem for us… Drugs is a problem worldwide. Even the Americans are having a headache," he said.
Duterte expressed full support to PDEA director general and former police general Aaron Aquino to take up the job of ridding the country of illegal drugs.
Barely a week after he designated the agency to lead the drug war, Duterte noted that PDEA is undermanned with only a little over 1,000 personnel – a big difference when compared with the Philippine National Police (PNP)'s over 175,000 members.
He told the PNP not to interfere with PDEA on drug-related operations to avoid being dragged into the issue anew.