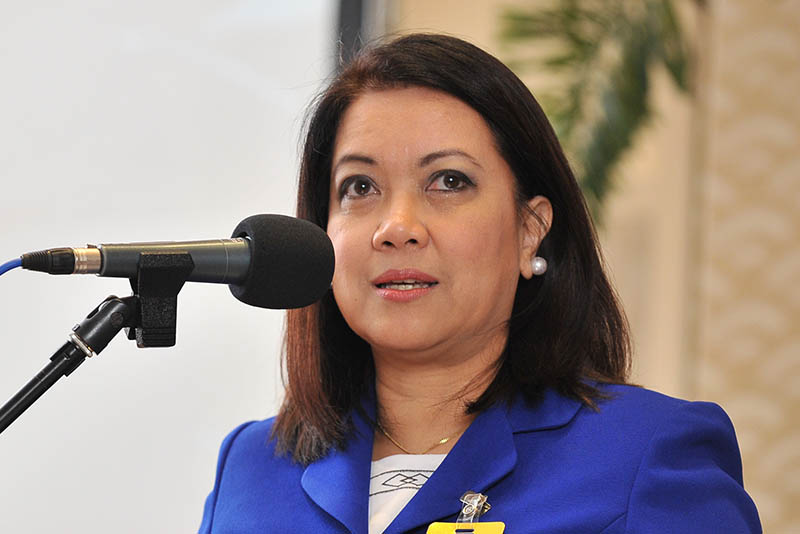 Public approval of Chief Justice Maria Lourdes Sereno saw a 12-point decline as the impeachment complaint against her gains ground at the House of Representatives. Sereno is seen in this 2013 photo from the Asian Judges Network.
Dip in ratings 'expected,' says Sereno's spokesperson
(philstar.com) - October 13, 2017 - 10:42am
MANILA, Philippines — Chief Justice Maria Lourdes Sereno will continue fulfilling her duties despite the dip in net satisfaction that was "expected" due to continuous "smear campaign," her spokesperson said.
In the latest SWS survey, Sereno saw a 12-point decline from "moderate" to "neutral" in from September 23 to 27.
The period of the survey coincides with the hurdling of lawyer Larry Gadon's impeachment complaint at the House Committee on Justice level.
READ: SWS: Robredo satisfaction rating up; Alvarez, Sereno scores drop
But lawyer Josa Deinla, in a statement, said that Sereno "will continue to fulfill her duties and constitutional mandate regardless of survey results."
Deinla said that their team of lawyers that handles the impeachment complaint against Sereno "expected" the "incessant attacks and vicious smear campaign" affect the chief justice's net satisfaction ratings.
"For the past months, she has been publicly vilified to justify attempts to unseat her on the basis of unfounded allegations, which are not even impeachable offenses under the Constitution," Deinla continued.
In the latest SWS survey, 35 percent were satisfied with Sereno's performance, 26 percent were dissatisfied and 29 percent were undecided.
Double-digit declines in Sereno's net satisfaction ratings were found in both urban and rural areas, in all socio-economic classes, among men, across age groups except 35 to 54 year olds and across educational levels except among high school graduates.
RELATED: Impeachment against Sereno raises political questions
Deinla, however, stressed that the chief justice remains "confident that when all the facts are presented, the allegations being leveled against her—all being falsehoods—will ultimately crumble."
The same survey saw the public approval of Vice President Leni Robredo to rise to +41, a five point difference from the +36 rating in June.
Senate President Aquilino "Koko" Pimentel III's rating reached a personal record-high of +41, netting a 13-point rise from the June survey.
Meanwhile, net satisfaction on the performance of House Speaker Pantaleon Alvarez recorded an 8-point dip, his personal record-low.
ALSO READ: Point by point: Sereno answers impeachment complaint