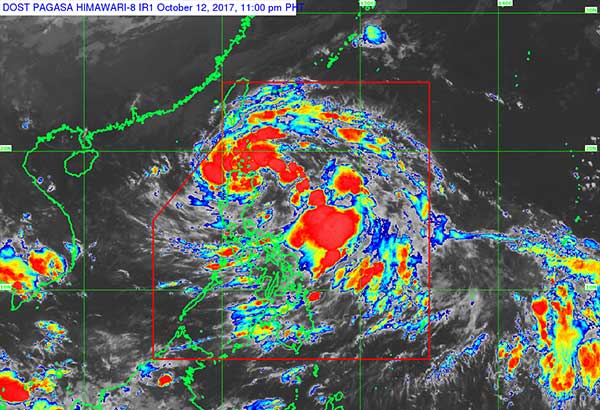 The Philippine Atmospheric, Geophysical and Astronomical Services Administration (PAGASA) yesterday said recent climate analysis showed significant weakening of the southwest monsoon winds in the past days and the strengthening of the high-pressure systems over the Asian continent, leading to the gradual changing of seasons. PAGASA
Habagat over; colder days ahead
MANILA, Philippines — Expect colder nights and mornings now that the southwest monsoon season or habagat is officially over.
The Philippine Atmospheric, Geophysical and Astronomical Services Administration (PAGASA) yesterday said recent climate analysis showed significant weakening of the southwest monsoon winds in the past days and the strengthening of the high-pressure systems over the Asian continent, leading to the gradual changing of seasons.
PAGASA administrator Vicente Malano said the climate of the Philippines is now in transition.
"The gradual onset of the northeast monsoon season is expected in the coming days, with a reversal of the winds from southwest to northeast," Malano said.
In a news conference, PAGASA assistant weather services chief Rene Paciente explained that the northeast monsoon has "intensified as Tropical Depression Odette has triggered the northeast wind flow, resulting in the northeast monsoon now being felt in extreme Northern Luzon."
For his part, PAGASA deputy administrator for operations and services Landrico Dalida Jr. said the southwest monsoon no longer has effect in the western part of the country.
"This is an indication that we are already under the 'Ber' months, and that come November-December, the northeast monsoon will be strongly
felt. So expect colder climate given the northeast monsoon," Dalida said.
Northern Luzon rains
PAGASA said Odette would bring moderate to heavy rains over Northern Luzon area.
Odette has maintained its strength as it moves closer towards Cagayan province and would traverse Cagayan, Apayao, Kalinga, Abra, Ilocos Norte and Ilocos Sur, it said.?The estimated amount of rainfall is from moderate to heavy within the 350-kilometer diameter of the tropical depression, which might trigger flashfloods and landslides.
"The tropical depression may intensify into a storm before making landfall over Cagayan," PAGASA weather specialist Nikos Viktor Peñaranda said.
At 4 p.m. yesterday, the center of Odette was estimated at 285 kilometers east of Aparri, Cagayan.?Packing maximum winds of up to 55 kilometers per hour and gustiness of up to 65 kph, it is forecast to move west at 30 kph.?Signal No. 1 was raised over Batanes, Cagayan including Babuyan islands, Isabela, Apayao, Abra, Kalinga, Mountain Province, Ifugao, Ilocos Norte and Ilocos Sur.
Five of six provinces in the Cordillera Adminstratve Region were placed under Signal No. 1 due to Odette, said Eugene Ventura PAGASA Baguio forecaster. – With Artemio Dumlao