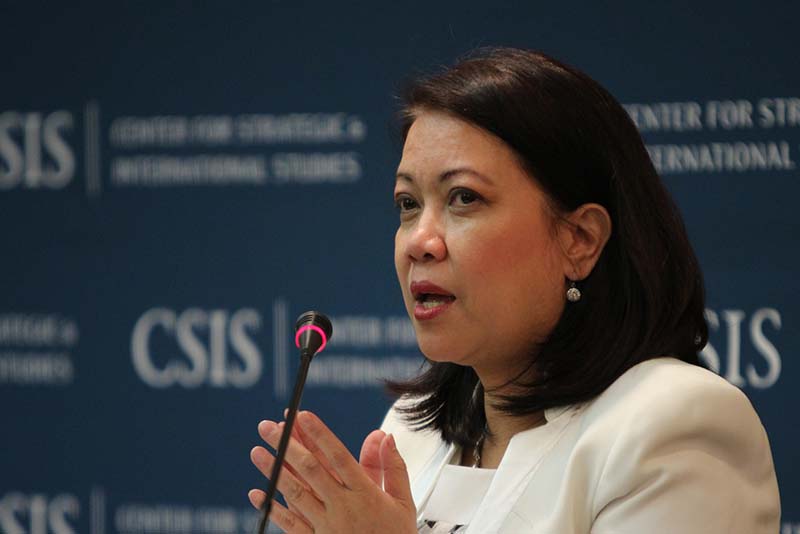 Chief Justice Maria Lourdes Sereno does not mind the obvious lack of support from judges and court employees in her impeachment battle. CSIS/CC BY-NC-SA, File
'Serene' Sereno on impeachment: Truth is on my side
Edu Punay
(The Philippine Star) - October 12, 2017 - 4:00pm
MANILA, Philippines — Chief Justice Maria Lourdes Sereno does not mind the obvious lack of support from judges and court employees in her impeachment battle.
She remains focused and cool, she said, as she expressed confidence she would hurdle the challenge with the truth on her side.
In a speech during the annual convention of the Philippine Trial Judges League in Palo, Leyte last Wednesday, Sereno said she would not muster support from members of the judiciary.
"I did not come here to, as some would advise, rally the troops and ask you to wear armbands or hold placards for me," Sereno told the judges.
"I know that, ultimately, such political maneuverings can only erode our branch of government in the long-term, however gratifying it may be at the moment. I have no interest in feeding my ego," she stressed.
The Supreme Court chief said she continues to perform her duties and remains unfazed by the impeachment charges.
"I am like this because I know that the truth is on my side. And in a time of constant spin, when narratives are coopted to serve the personal agenda of a few, the truth is our bedrock," she pointed out.
"I know I did not lie, I did not cheat, I did not exploit anyone and I am doing my duty as chief justice. I have enough faith in the truth to sleep soundly at night; I have enough faith in our people, and in our democratic systems, to know that narratives built on lies will eventually crumble," Sereno stressed.
The embattled SC chief said her staff could attest that the impeachment case does not bother her.
"To tell you the truth, I do not feel as embattled as the news stories may portray me to be. As one of my younger staff remarked, 'Ang chill ni CJ, bagay ang pangalan (CJ is chill, her name fits her) – Sereno, as in serene… Kalmado (Calm)" she said.
With this, Sereno called on judges to just continue performing their tasks and not to be sidetracked by her impeachment.
The chief magistrate told the judges to "work hard, work with integrity, be honest in all your dealings and defend the Constitution as we all swore to do."
"Remain steadfast in the conduct of your duties; zone out of politics, and decide on your cases with openness, sobriety and fairness," she added.
Sereno made the statement after the House committee on justice, voting 25-2, declared there was sufficiency in grounds to proceed hearing the impeachment complaint filed against her by lawyer Lorenzo Gadon.
The STAR earlier reported that Sereno has met with leaders of employees' unions in the judiciary in an apparent move to gather support while she faces impeachment proceedings before Congress.
It was Sereno who called for the meeting in her office, which was attended by officers of the Supreme Court Employees Association.