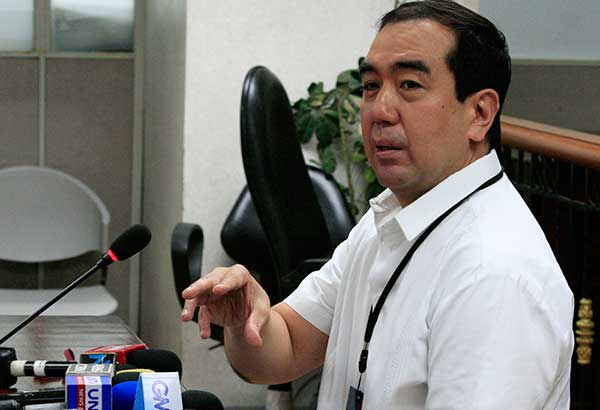 Commission on Elections Chairman Andres Bautista made the clarification while declaring his readiness to face impeachment proceedings initiated by House leaders who wanted him out of Comelec immediately. Edd Gumban/File
President to decide my fate — Bautista
MANILA, Philippines — He has offered to resign, but it's ultimately President Duterte who should decide on his fate, as his resignation "is not etched in stone," Commission on Elections (Comelec) Chairman Andres Bautista said yesterday.
Bautista made the clarification while declaring his readiness to face impeachment proceedings initiated by House leaders who wanted him out of Comelec immediately.
"Let the President decide," he said.
The embattled elections chief said it would be "embarrassing" to preempt the President by resigning before Dec. 31, contrary to what he had told the Chief Executive in his resignation letter.
"It goes against the principle if you want to effect a smooth and orderly transition. I don't want to rush the President. Let's give him a chance to choose my replacement," he maintained in an interview with dzMM.
Citing his own experience when he was appointed Comelec chief in May 2015, Bautista underscored the need to help his replacement adjust.
"It was so difficult. That was one year before the elections. I was really coming from the cold and very steep yung learning curve at the Comelec, so I think we have to give time for transition," he added.
"I will prepare for my defense," he said, referring to the prospect of facing an impeachment trial. "At this point, I feel that what I did is reasonable."
At Malacañang, presidential spokesman Ernesto Abella said the executive branch is hands off on the impeachment proceedings against the poll chief.
"Congress shall decide what to do, you know, with this impeachment in view of his resignation," Abella said in a press briefing yesterday. "That belongs to the Congress to decide on."
Abella said the executive branch acknowledges the services of Bautista and is hopeful preparations for the barangay and youth council polls would be smooth "and if possible, BBL (Bangsamoro Basic Law) and Charter change plebiscites in 2019."
For Rep. Edcel Lagman of Albay, the decision of the House leadership to impeach Bautista was totally unnecessary.
"Since Chairman Bautista has resigned effective Dec. 31, 2017, then any impeachment process against him is unnecessary because the purpose of an impeachment is the ouster of the respondent," he said.
"Such ouster has already been preempted by Bautista's resignation, whose effective date will definitely occur before the termination of the impeachment process both in the House and in the Senate," he said.
He added that he has no doubt that the Comelec chief would honor his word and step down by yearend.
Some congressmen said Bautista's impeachment was not only unnecessary but also a waste of time and taxpayers' money.
Opposition senators made similar statements.
Bautista announced his resignation on Wednesday in a signed letter addressed to the "Comelec family." He sent President Duterte a similar resignation letter.
He made the announcement hours before the House, in plenary, voted to impeach him and send the complaint against him to the Senate for trial.
The House committee on justice had earlier dismissed the complaint against Bautista.
The Comelec chief's impeachment was decided in a closed-door caucus Alvarez hastily called on Wednesday afternoon.
Marching orders
Some congressmen who attended the caucus and who did not want to be named told reporters that there was a "marching order from the Palace" to impeach Bautista.
Alvarez, who usually does not vote, voted for overturning the justice committee's decision.
House sources told reporters that the chamber's leaders were piqued by Bautista's announcement of his yearend resignation, since they expected him to hand in an irrevocable resignation effective immediately.
They reasoned out that the Comelec chief could still change his mind, prompting them to impeach him.
Lagman said there was "inordinate haste on the part of the Duterte administration to end the tenure of Bautista to enable the President to appoint his chosen chairman of the Commission on Elections."
He also said the House decision to send the complaint against Bautista to the Senate for trial was "premature."
Since the justice committee dismissed the case for insufficiency in form, he said the plenary should return it to the committee so it could determine sufficiency in substance.
"Verily, it is premature to require the committee on justice to prepare the Articles of Impeachment, considering that there is no determination yet by the committee on the substance and sufficiency of the complaint," he said.
Rep. Harry Roque of party-list Kabayan told a Quezon City news forum that he felt vindicated in endorsing the impeachment complaint against Bautista.
He said it was the first time the House reversed a committee decision. He refused to answer a question on whether committee chairman Rep. Reynaldo Umali of Mindoro Oriental should resign.
Guesting in the same forum, former Negros Oriental congressman Jacinto Paras, one of the impeachment complainants, said the Presidential Commission on Good Government has given him more evidence against Bautista.
"I have documents showing irregularities involving the Comelec chairman when he headed PCGG. These anomalies include failure to liquidate a cash advance, abuse in the use of motor vehicles, transfer of deposits to a favored bank and employing ghost personnel. All these violate the anti-graft and corrupt practices law," he said.
Compassion
For election lawyer Romulo Macalintal, Congress should show Bautista some compassion by withdrawing the impeachment proceedings against him.
Macalintal said the family of Bautista, particularly his children, has suffered enough and needs relief from further controversy.
"Thus, it is high time that we also show him our compassion for the apparent humiliation and embarrassment he and his children underwent during all those times when his personal and private life were publicly exposed," Macalintal said.
"In a word, he still deserves a compassionate judgment from our lawmakers and from all of us. For justice without compassion is no justice at all," he said in a statement.
"After all, Bautista, in his short stint as Comelec chairman, had demonstrated his sincere efforts to protect the integrity of our election as evidenced by the conduct of the 2016 elections which was hailed by independent and foreign observers as the best managed and most credible election in our country," he said. – With Mayen Jaymalin, Jess Diaz, Alexis Romero