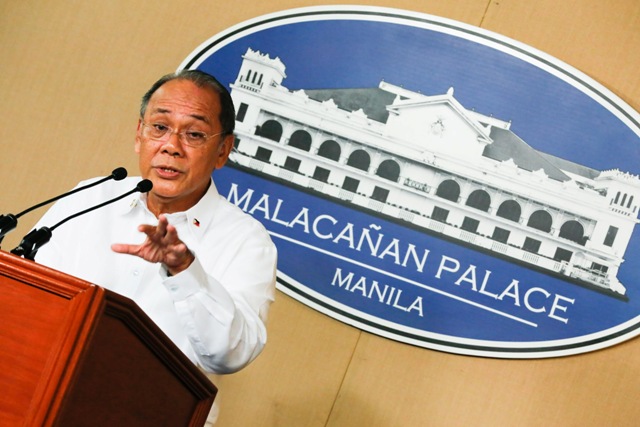 Presidential Spokesperson Ernesto Abella holds a press briefing in Malacañan. Presidential Photographers Division/Toto Lozano
Palace: Congress shall decide on Bautista impeachment
(philstar.com) - October 12, 2017 - 8:17am
MANILA, Philippines — Malacañang on Thursday distanced itself from the House of Representatives' impeachment of Commission on Elections Chairman Andres Bautista, who had earlier announced his decision to step down at the end of this year.
READ: Andy Bautista quits Comelec post
"Well, Congress shall decide what to do, you know, with this impeachment in view of his resignation," Presidential spokesperson Ernesto Abella said in a press briefing, adding that the Palace acknowledges Bautista's services.
"After his successor is named, we look forward to a smooth transition and preparations for Barangay and SK Elections next year for... and midterm polls, and if possible, BBL and Charter Change plebiscites in 2019," Abella also said.
"So, basically we have no comment regarding that," he added.
In a letter addressed to the Comelec, Bautista on Wednesday said that it was the right time to step down following the postponement of the Barangay and Sangguniang Kabataan elections.
The House Committee on Justice last month dismissed an impeachment complaint against Bautista over allegations his estranged wife Patricia raised early August. She accused the Comelec chief of amassing about P1 billion in unexplained wealth, which was not declared in his Statement of Assets, Liabilities and Net Worth.
During the plenary debates on the complaint on Wednesday afternoon, 137 representatives voted to reject the committee resolution that junked the impeachment charge against the poll chief while 75 House members voted to adopt it. Two representatives abstained from the voting.
READ: House votes to impeach Comelec Chairman Bautista
The House has the power to overturn the committee decision should one-third of its members vote to do so.
The vote of the House paves the way for the Justice committee to prepare the articles of impeachment, which will be sent to the Senate for an impeachment trial.
President Rodrigo Duterte earlier said he refuses to be involved in allegations of unexplained wealth hurled against Bautista, saying it is out of his jurisdiction.
But Duterte confirmed that he did meet with the Bautistas and said he merely gave them advice. He said he asked the poll chief to talk to his wife since her allegations are "serious."
"I was not meddling, I asked him to fix his quarrel with the wife," Duterte said.
READ: Duterte 'hands off' on Comelec chief's 'unexplained wealth' woes