LP to block Sereno impeachment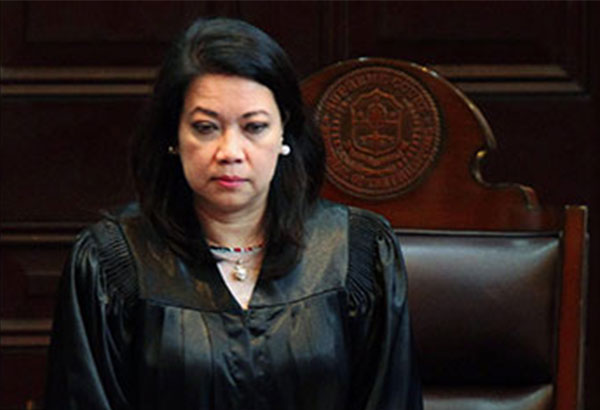 MANILA, Philippines — Former stalwarts of the now opposition Liberal Party have exerted vigorous efforts to block the impeachment of Chief Justice Ma. Lourdes Sereno in the House of Representatives.
Reps. Arlene Bag-ao of Dinagat Islands, Jose Christopher Belmonte of Quezon City, Edcel Lagman of Albay, Tom Villarin of Akbayan – with the exception of non-LP member Carlos Isagani Zarate of Bayan Muna – all wanted a more thorough discussion of the case.
They called on Oriental Mindoro Rep. Reynaldo Umali, chairman of the House committee on justice, to give lawmakers more time to scrutinize in detail the complaint of lawyer Lorenzo Gadon, who accused Sereno of betrayal of public trust.
Bag-ao and Belmonte are members of the Umali committee.
All five, including Villarin whose representation is an ally of the LP, are members of the once dominant political party whose titular head is former president Benigno Aquino III who appointed Sereno in 2012.
Sereno has a long way to go before retirement on 2030 when she reaches the mandatory retirement age of 70.
Aquino himself had been very vocal in his stand to impeach Sereno's predecessor, the late chief justice Renato Corona, as well as former Ombudsman Merceditas Gutierrez – the same way President Duterte despises Sereno and Ombudsman Conchita Carpio-Morales.
Bag-ao and Belmonte, nephew of former speaker and now Quezon City Rep. Feliciano Belmonte Jr., were among the 185 signatories who pushed for Corona's impeachment in 2012, and were also supportive of Gutierrez's impeachment in March 2011.
Both lawmakers are now blocking Sereno's impeachment.
"Our role is to dissent when we see something wrong. In a democracy, we must never be silent and we must always resist being silenced," Bag-ao declared last week, lamenting the alleged railroading of Sereno's impeachment complaint.
Belmonte echoed Bag-ao's sentiments, as he observed the haste in proceedings in the Umali committee.
Corona's appointment in 2010 was overwhelmingly upheld by the SC twice with a 11-3-1 vote.
Veteran lawmaker Lagman though was at least consistent as he actively voted against the impeachment of Corona and Gutierrez, which he described as "mother of all blackmails" when congressmen were forced to sign in exchange for their pork barrel funds.
He was instrumental in the dismissal of the four impeachment complaints – filed for four successive years – against former president and now Pampanga Rep. Gloria Macapagal-Arroyo, courtesy of what he pioneered as "prejudicial questions."
The Albay legislator was a Lakas-CMD party stalwart prior to joining Aquino's LP.
Zarate, now on his second term, was not a congressman yet in 2012, but supported Corona's impeachment when he was still a private lawyer in Davao City as secretary-general of the Union of People's Lawyers in Mindanao.
Villarin, on the other hand, was not a member of the House then, as he is still a neophyte.
Umali, a former LP stalwart but who managed to switch party allegiance to the now ruling PDP-Laban party, was also among those who helped convict Corona before the Senate impeachment court, same with now House Majority Leader Rodolfo Fariñas.
Gadon, the complainant in the impeachment case now being heard by the House, called on Sereno to sign a waiver on bank secrecy to allow examination of her bank assets.
"Since she insists on clinging on to her post, then she should now sign a bank waiver on secrecy of deposits. They have failed to address this issue on her SALN," Gadon said.
"If she has nothing to hide, then it should be easy for her to do that," he stressed.
Among the allegations in the impeachment complaint against the Supreme Court chief is her failure to declare in her statements of assets, liabilities and net worth since appointment in the high court in 2010 the P30 million she earned as one of the counsels of government in the arbitration case involving the expropriation of the Ninoy Aquino International Airport Terminal 3 when she was still private lawyer. – With Edu Punay