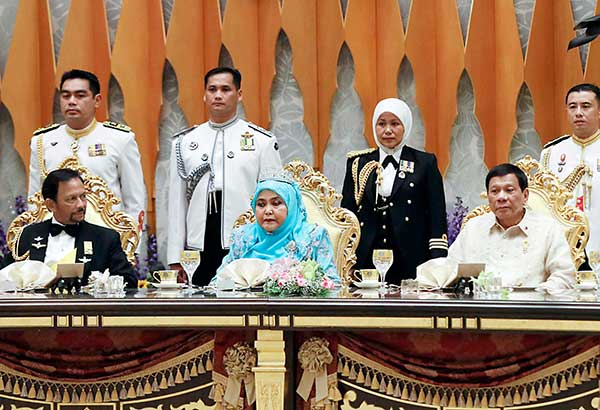 President Duterte attends the Golden Jubilee celebrations of Brunei Sultan Hassanal Bolkiah (left) in Bandar Seri Begawan the other day. Between them is Brunei Queen Raja Isteri Hajah Saleha. Bolkiah's 50th anniversary of accession to the throne is being celebrated across Brunei in October with grand celebrations.
Duterte, Bolkiah strengthen ties
DAVAO CITY , Philippines — President Duterte returned home before dawn yesterday from Brunei, bringing with him assurances of stronger relations with the tiny but rich Southeast Asian sultanate.
The President was a guest at ceremonies marking the 50th year of Sultan Hassanal Bolkiah's accession to the throne.
The President has described Bolkiah as a friend of the Philippines in the "truest and most profound sense of the word," citing the sultan's commitment to the pursuit of just and lasting peace and development in Mindanao.
Duterte likewise cited Bolkiah's expressed concern for the well-being of Filipinos in Brunei, as well as his vigorous efforts to bring the two countries closer to each other.
The President looks forward to further broadening and deepening bilateral cooperation with Brunei, as well as advancing efforts toward a more peaceful, prosperous and progressive ASEAN.
The celebration of Bolkiah's 50th year in the throne is also seen as a fitting tribute to a leader who made amity and cooperation a cornerstone of his dealings with regional and international leaders.
Duterte went on a state visit to Brunei last October while Bolkiah also made a reciprocal state visit to Manila in April.
Presidential spokesman Ernesto Abella described Duterte's overnight visit to Bandar Seri Begawan as "productive" as it afforded him an opportunity to meet with other key ASEAN leaders like Cambodia's Prime Minister Hun Sen, Indonesia's President Joko Widodo and Malaysia's Prime Minister Najib Razak.
"The President also reaffirmed the long and enduring ties between the Philippines and Brunei Darussalam and renewed the special friendship between the two countries," Abella said.