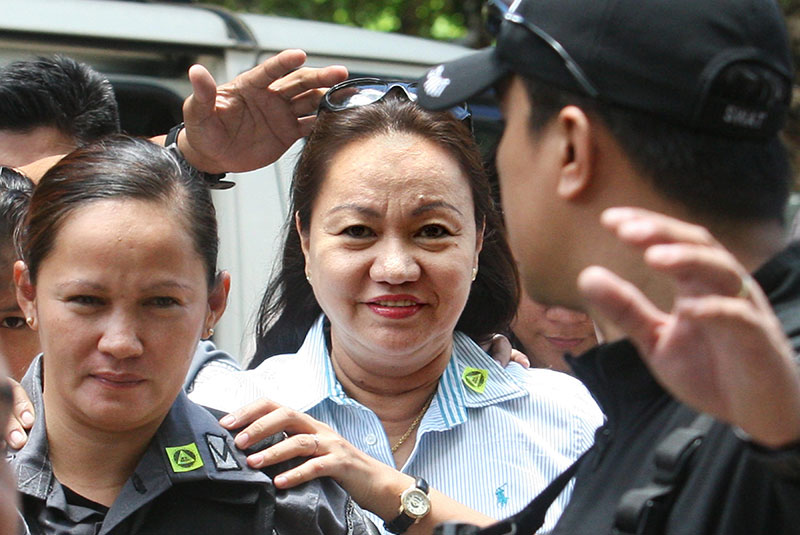 Janet Lim-Napoles entered a not guilty plea before the Sandiganbayan Second Division for two counts of graft and two counts of malversation of public funds in connection with her alleged involvement in the the supposed misuse of P15.36-million worth of Priority Development Assistance Fund (PDAF) or pork barrel of Davao del Sur Gov. Douglas Cagas during his term as congressman in 2007. File
Napoles pleads not guilty to other PDAF charges
MANILA, Philippines — Businesswoman Janet Lim-Napoles yesterday maintained her innocence in the multibillion-peso pork barrel fund scam.
Napoles entered a not guilty plea before the Sandiganbayan Second Division for two counts of graft and two counts of malversation of public funds in connection with her alleged involvement in the the supposed misuse of P15.36-million worth of Priority Development Assistance Fund (PDAF) or pork barrel of Davao del Sur Gov. Douglas Cagas during his term as congressman in 2007.
Other respondents in the case are former Department of Budget and Management undersecretary Mario Relampagos and current DBM officials Rosario Nuñez, Marilou Bare and Lalaine Paule, who also entered a not guilty plea.
Cagas, meanwhile, was not arraigned due to his pending motion seeking dismissal of the cases.
Filed in April of this year, the cases stemmed from Cagas' allocation of P15.36 million of his PDAF to Countrywide Agri and Rural Economic Development Foundation Inc. and Philippine Social Development Foundation Inc., two of the fake foundations allegedly put up by Napoles.
The ombudsman said Cagas unilaterally chose the two foundations to implement his supposed livelihood projects without the benefit of public bidding and despite their lack of qualifications to carry out the projects.
The ombudsman said field investigation also revealed that the projects were never implemented. Instead, Napoles and the other private respondents supposedly prepared fake delivery reports and other supporting documents "to conceal the fictitious nature of the transactions."