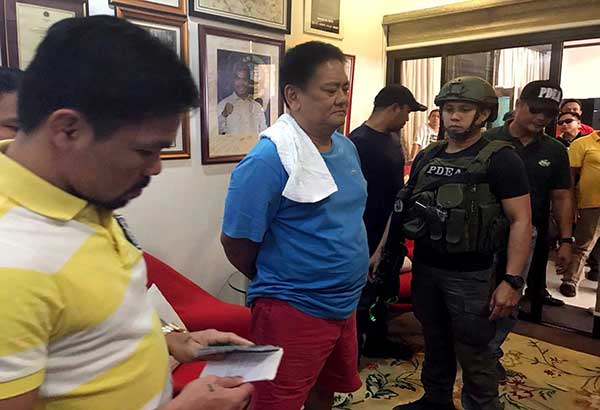 COOKING UTENSILS? Maasim Mayor Aniceto Lopez Jr. is guarded by PDEA agents after he surrendered to Sen. Manny Pacquiao in General Santos City yesterday.
Sarangani mayor yields after shabu raid
MANILA, Philippines — Eluding arrest by anti-drug operatives who seized some P5 million worth of shabu in his house during a pre-dawn raid, a Sarangani mayor later turned himself in yesterday to authorities through Sen. Manny Pacquiao.
Now under custody of the Philippine Drug Enforcement Agency (PDEA), Maasim Mayor Aniceto Lopez Jr., 55, denied the drug charges and claimed that what the raiders found in his house were only cooking equipment used by his children.
PDEA director general Aaron Aquino said Lopez surrendered to his party-mate Pacquiao at the senator's residence in General Santos City at around 12:30 p.m. yesterday or several hours after the raid.
"When he called up, I advised him to surrender. Dapat niyang harapin ang anumang kasong isasampa laban sa kanya (He must face whatever case is filed against him)," Pacquiao said in a statement.
Pacquiao debunked reports that he negotiated for the surrender of Lopez.
"That's not true. Why would I do that? He sent feelers that he wanted to surrender peacefully, which is better or something bad might happen to him," Pacquiao said in Filipino.
Aside from drugs, the raiders also reported seizing firearms and shabu lab equipment in his house.
The raiders had three search warrants when they carried out the operation at Lopez's "resort house" compound on Belen Lopez Ave., Barangay Lumasal in Maasim.
PDEA Region XII Director Gil Castro said a kilogram of shabu, a pack of suspected Ecstasy pills, two cal. 45 pistols, two M203 grenades, two HE fragmentation grenades, two rifle grenades, laboratory equipment and drug paraphernalia were seized during the operation conducted at about 2 a.m.
The flasks and other lab equipment would be subjected to testing after suspected drug residue was found on them.
Aquino said the equipment found in Lopez's house could not have been for ordinary cooking.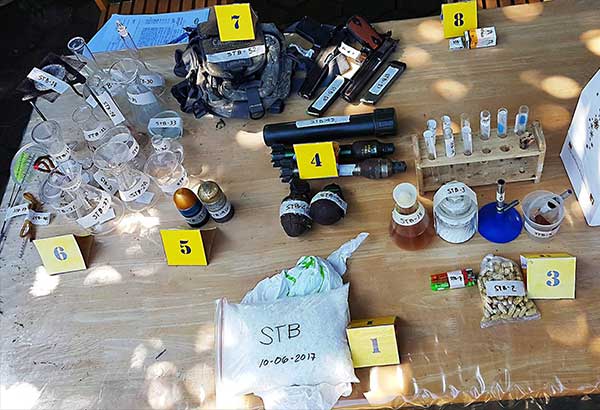 Photo provided by PDEA Region 12 shows a kilo of shabu, firearms, explosives and flasks believed to be used in manufacturing drugs, which were reportedly seized from the mayor's home.
"Sa laboratory yun ginagamit. Hindi naman magkakasya ang ulam dun (It's used in a laboratory. They can't hold food). May mga vials ba na lutuan (Are vials used for cooking)? Definitely it could have been used for experimenting on something," Aquino said in a phone interview.
Aquino said Lopez could have been tipped off about the operation as the raiders had been very sure about his presence inside.
PDEA tagged Lopez as the leader of the El Patron drug group, which reportedly also gave financial support to Ansar Al Khilafah Philippines and the New People's Army.
Lopez won his second term as mayor under Pacquiao's People's Champ Movement in last year's elections. He first won the position in 2013 under the same party.
Aquino noted that Lopez continued to engage in illegal drug activities even after President Duterte took office and launched a vicious anti-drug campaign.
While Lopez is not in Duterte's narco-list, he is on PDEA's watchlist, Aquino clarified.
The PDEA chief added they have reports linking Lopez to the illegal drug trade since 2012.
A so-called "green book" recovered by anti-narcotics operatives at Lopez's house reportedly contained a record of transactions between him and other politicians.
Slain mayors Rolando Espinosa of Albuera, Leyte and Reynaldo Parojinog of Ozamiz, as well as convicted drug dealer Herbert Colangco were among the names found in Lopez's green book.
Transactions recorded in the notebook reportedly included P150 million transferred to Espinosa and P80 million to Colangco in 2015, Aquino revealed without elaborating.
Lopez faces charges for illegal possession of firearms and violation of Sections 10, 11 and 12 of Republic Act 9165 or the Comprehensive Dangerous Drugs Act of 2002.
"All the local officials in my home province knew my stand when it comes to illegal drugs trade and corruption. Once they got embroiled in any illegal activities, they cannot expect help from me. I made it clear from the very start," Pacquiao said.
He stressed that leaders of the country should serve as role models.
"How can we expect the people to follow or respect the rule of law when the leaders themselves are lawbreakers?" he said. "I'm not saying that Lopez is guilty. My point is, he should be given a chance to answer the charges that may be filed against him in court." – John Unson, Paolo Romero