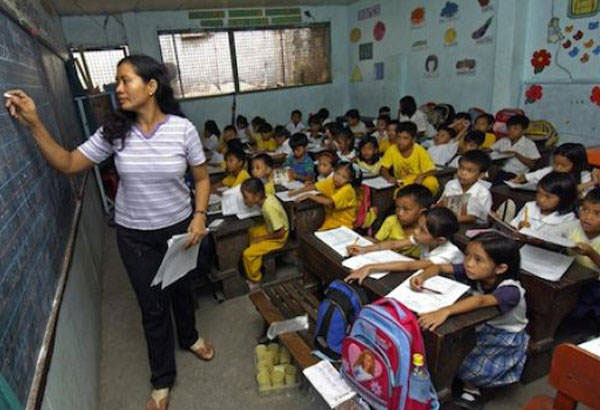 Senators are pushing for higher allowances and pay scale for teachers. STAR/File
Senators push for higher chalk and clothing budget, pay scale for teachers
MANILA, Philippines — Two senators on Friday vowed to push for higher allowances for teachers to improve the conditions educators face in classrooms and schools.
Senators Loren Legarda and Ralph Recto are pushing for higher chalk and clothing allowances and funding for their professional development.
According to Recto, instead of redirecting P30 billion cut from the Education department's building budget to other government agencies the money should instead be used to increase the chalk and uniform allowances of teachers, move up their pay scale and hike the operating funds of schools.
Legarda, the chairperson of the Senate Committee on Finance, said that senators had increased the chalk allowance of teachers from P2,500 under last year's budget to at least P3,500 for 2018.
Recto meanwhile is proposing a P5,000 chalk allowance for public school educators who use the money to buy teaching supplies such as chalk, markers, paper and erasers.
The chalk allowance of teachers has incrementally increased over the years, from P1,500 in 2015 to P2,500 last year.
"If government agencies could easily provide office equipment to their staff, we should do the same for our teachers who only want the best for their students. We also hope that this allowance would be given to our teachers before the start of the school year," Legarda said.
According to Recto, doubling the chalk allowance of teachers to P5,000 would cost the government less than P2 billion.
"Mas maliit pa rin yan kaysa sa P30-billion cut," Recto said, referring to the move of the House of Representatives to slash the Department of Education's building fund for 2018 by P30 billion because of the agency's slow use of money.
'Chalk is teachers' bullets'
According to Recto, based on the current amount and 200 teaching days, teachers have a daily budget of only P12.50 for these teaching materials.
"Chalk allowance is to teachers as what bullets are to soldiers. That's where teachers get money for cartolina, papel, pen, USB, internet load," said the senator.
Recto is also pushing for an P8,000 uniform allowance for educators, higher by P2,000 than what the administration of President Rodrigo Duterte is pushing.
"That P8,000 is still half than what jail guards, firemen, policemen, and soldiers get," he said. "Yung additional P2,000, pang-sapatos. So clothing and shoes allowance na."
The Senate Finance committee has also ensured that the 2018 budget would have funding for the training, seminars and further studies of teachers, according to Legarda.
She added that students stand to benefit if teachers would be able to enrich their knowledge and skills.
The government should also institute a "mass promotion" of educators by assigning them to the next salary grade which should result in a higher pay, according to Recto.
He added that increasing the maintenance and other operating expenses of schools will also spare teachers from out-of-pocket expenses on activities and training.
At present, the average MOOE per elementary student is P865, P1,377 per high school student and P1,670 per student in senior high schools.
Another source of increase payment for teachers is the government's tax reform proposal.
Under the bill on the Senate floor, a Teacher 1 would save around P19,000 in tax payments in a year.
Recto is also pushing for a higher no-tax zone of P250,000 in taxable income so teachers with small businesses and college professors will exempted.
Legarda has also filed Senate Bill 36 that aims to attract teaching and non-teaching personnel by providing them annual salary increases, security payment of their salaries regardless of summer and term breaks and gratuity pay for those who retire before the compulsory age of 60 and have rendered at least two years of service.
"We should enhance the image of teaching as an esteemed vocation so that more and more people recognize the value and impact of our teachers to our children and to the society," Legarda said.
"We should invest in this profession in order to build our education system as a bastion of knowledge and hope for our future generations."