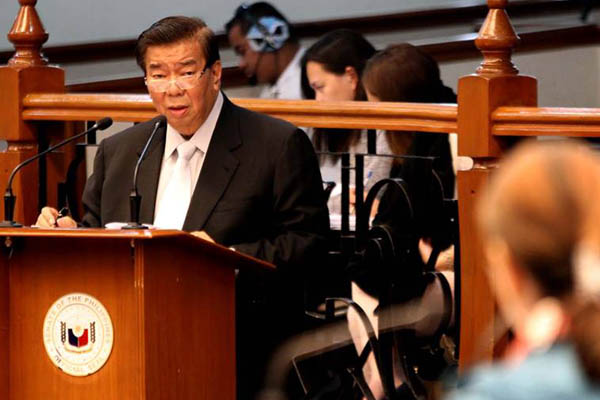 Senate Minority Leader Franklin Drilon, a former Justice secretary, said only the heads of constitutional bodies can discipline their personnel, while it is the duty of the legislators to investigate and prosecute impeachable officials. PRIB/Cesar Tomambo
Presidential anti-corruption panel can't probe constitutional bodies — Drilon
(philstar.com) - October 6, 2017 - 8:00am
MANILA, Philippines — Senate Minority Leader Franklin Drilon on Friday said the newly-created Presidential Anti-Corruption Commission cannot probe and discipline officials and employees of constitutional bodies.
"The executive order cannot be extended outside the executive branch without violating the core principles of independence and checks and balances enshrined in the Constitution," Drilon said.
President Rodrigo Duterte on Thursday signed Executive Order 43, creating a separate commission "solely dedicated to providing assistance to the President in the investigation and hearing of administrative cases and complaints, and in the conduct of lifestyle checks and/or fact-finding inquiries concerning presidential appointees and other public officers allegedly involved in graft and corrupt practices."
The release of the EO came a week after he threatened to probe the Office of the Ombudsman that is looking into his alleged hidden wealth. He accused the anti-graft agency of being involved in corruption and of employing "selective justice."
READ: Duterte creates presidential commission against corruption
Drilon, a lawyer and former Justice secretary, said Section 5 of the EO "may be legally challenged" as it infringes on the independence of other branches of the government and of constitutional bodies.
Section 5 of the EO states that upon the instructions of the president, the commission may conduct lifestyle checks and fact-finding inquiries on acts of all presidential appointees including those outside the executive branch, which have violated the Constitution or are contrary to the law.
Drilon said that by the virtue of constitutional independence, EO 43 cannot be used to discipline or recommend actions against any member, official and employee of Congress, the Judiciary, Office of the Ombudsman, Commission on Human Rights, Commission on Elections, Commission on Audit and Civil Service Commission.
The senator said only the heads of these constitutional bodies can discipline their personnel, while it is the duty of the legislators to investigate and prosecute impeachable officials.
"The limitation of the power of the president to discipline the members of these constitutional bodies is to preserve its independence and isolate them from the President's influence and political pressure," Drilon said.
When asked if the anti-corruption body would be redundant because of the existence of the Ombudsman, Chief Presidential Legal Counsel Salvador Panelo said the new commission will handle cases under "specific laws."
"There are specific laws that may be handled by the commission while the Ombudsman has general jurisdiction. Any act that illegal, irregular, any violation, they can take care of that. While this commission, there are specific laws which are the subject matter of the investigation," Panelo said on ANC's Top Story.
Among those laws are the Anti-Graft and Corrupt Practices Act, the Code of Conduct and Ethical Standards for Public Officials and Employees and certain provisions of the Revised Penal Code.
Panelo also denied that Ombudsman will be the first target of the newly-created body.