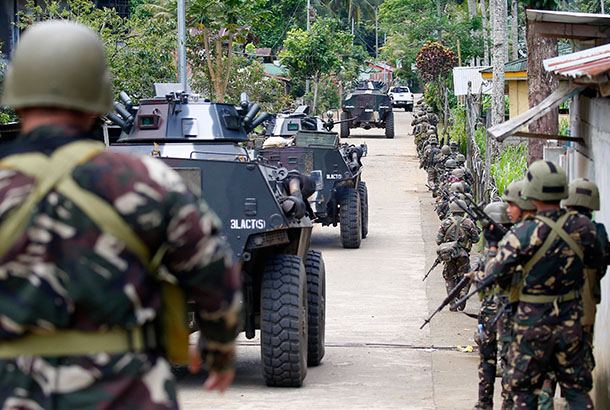 Government troops head to the frontline as fighting with Muslim militants in Marawi city enters its second week Tuesday, May 30, 2017, in southern Philippines. Philippine forces pressed their offensive to drive out militants linked to the Islamic State group after days of fighting left corpses in the streets and hundreds of civilians begging for rescue from a besieged southern city of Marawi. AP Photo/Bullit Marquez
Government trooper killed by sniper fire in Marawi
(philstar.com) - October 6, 2017 - 7:43am
MANILA, Philippines — A government trooper was killed by a sniper fire in Marawi City on Friday morning, the military said as state forces continue to battle the dwindling forces of ISIS-inspired local terrorists months into the bloody standoff.
"There were about 155 already killed on our part," Armed Forces of the Philippines Spokesperson Maj. Gen. Restituto Padilla Jr. said in a press conference in Malacañang.
"It's a sad development because we were expecting that as we engaged more in these remaining areas and have better control of the peripheral areas in and out of this area, we'd be able to minimize that," he added.
A failed attempt by government troops to arrest Abu Sayyaf leader Isnilon Hapilon in Marawi on May 23 triggered the battle against the Maute group, homegrown jihadist militants who claim allegiance with ISIS and backed by some foreign fighters.
The urban warfare prompted President Rodrigo Duterte to place the entire Mindanao region under military rule. After the declaration reached the 60-day limit, Congress overwhelmingly voted to extend martial law in the strife-torn region until yearend.
Thousands of civilians have been displaced by the clashes while aerial bombardments and deadly street-to-street combat have left Marawi in ruins.
READ: Despite 'friendly fire' deaths, military to continue using airstrikes
As of October 5, the number of enemies neutralized remained at 735 while 1,750 civilians have been rescued.
The military originally sought to finish the operations against the Maute militants last June 2 but stiff resistance and the presence of trapped civilians prevented them from doing so.
According to Padilla, the remaining captives in Marawi are guarded by as much as 50 extremists, adding that advancing troops are making sure that hostages will be rescued without causing government casualties.
READ: 40 hostages still inside Marawi, says AFP
"So this will be the subject of our operations in the next few days and this is the reason also why we have not given out," the military spokesperson said.