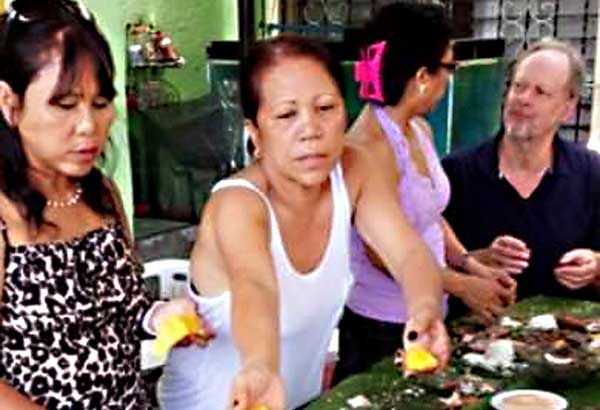 Mass murderer Stephen Paddock is seen in photo with girlfriend Marilou Danley and her family during a visit to the Philippines in 2013. File photo
Danley sisters: Sparing Marilou's life not enough to compensate to 59 lives lost
(philstar.com) - October 5, 2017 - 9:08am
MANILA, Philippines —For Australian-based sisters of Marilou Danley, Las Vegas gunman Stephen Paddock's move to spare their sister from the shooting incident is not enough to compensate the 59 lives lost.
In an interview with NBC's Australian partner Channel 7, Danley's sister believed their sister knew nothing of Paddock's plans.
While they are thankful their sister's life is alive, emotional sisters of Danley are regretful of the lives lost in the shooting spree that killed at least 59 people and injured more than 500 others last October 1.
"He sent her away. so that he can plan what he is planning without interruptions," one of the sisters claimed in a televised interview.
"In that sense I thank him for sparing my sister's life but that won't be to compensate the 59 people's lives," she added.
An earlier report of NBC News also quoted Danley's sister as saying Paddock bought her a "cheap ticket" to the Philippines two weeks before his fatal rampage.
Danley, 62, identified as the "regular companion" of 64-year-old retired accountant and multimillionaire Paddock, was initially a person of interest but she was cleared after determining that she was out of the country during the shooting incident.
She arrived in the Philippines last September 25 onboard a Cebu Pacific flight 5J 115 from Hong Kong. Her flight from the US to Hong Kong is via Japan Airlines.
Danley sisters believed her sisters can shed light to the motive of Paddock, who killed himself after firing at the concertgoers in Las Vegas.
However, Danley, who arrived in Los Angeles and became the center of the investigation, denied having knowledge on Paddock's plan. She also described her deceased partner as "kind, caring, quiet man."
According to Danley, Paddock wired her money in the Philippines to buy a house for her family, but she later worried it was a way to break up with her. —Rosette Adel