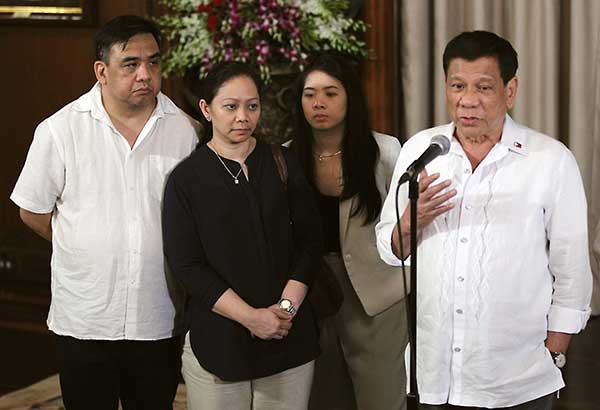 President Duterte meets the parents and sister of UST hazing victim Horacio Castillo III at Malacañang yesterday. The President assured the family there would be no whitewash in the investigation of the law student's death. KRIZJOHN ROSALES
Duterte assures Atio's kin: No whitewash in probe
MANILA, Philippines — President Duterte yesterday assured the family of hazing victim Horacio "Atio" Castillo III that there would be no whitewash in the investigation of the incident.
The President also directed the Manila Police District (MPD) under Senior Supt. Napoleon Joel Coronel to take the lead in the investigation.
Duterte met with the parents Horacio Jr. and Carmina, their daughter Nicole and Gerry Castillo, the victim's uncle, in Malacañang.
The meeting came a week after Castillo was buried at the Manila Memorial Park last Sept. 27.
Castillo was a freshman law student who died during initiation rites of the Aegis Juris fraternity of the University of Santo Tomas.
Duterte called Coronel on the phone and directed him to continue helping the family in the investigation to bolster the cases filed against the suspects.
During the meeting with the President, the family expressed concern that some influential forces might work against them while the investigation progresses and the suspects are brought to court.
The MPD helped the family pursue the case against the Aegis Juris even before the UST-College of Law officially informed them of the death of Atio during the initiation rites.
Duterte also directed the Department of Foreign Affairs (DFA) to coordinate with the Interpol to go after the persons involved in the fatal hazing once the cases are filed in court.
Duterte was apparently referring to Ralph Trangia, who reportedly fled to Chicago a couple of days after the incident and before the Department of Justice (DOJ) issued a lookout bulletin order against 20 members of the fraternity initially tagged in the hazing incident.
Aguirre had earlier ordered the National Bureau of Investigation (NBI) to coordinate with Interpol to hunt down Trangia and said the DOJ will also ask the DFA to cancel the passport of the suspect.
John Paul Solano had come forward to shed light on the incident. He was briefly detained but later released by the police upon recommendation of the DOJ.
Only three of 16 respondents failed to appear at yesterday's preliminary hearing at the DOJ.
Oliver John Audrey Onofre, Danielle Hans Matthew Rodrigo and Jose Miguel Salamat were not present and did not send lawyers to represent them in the hearing.
Two of the respondents, Solano and Jason Adolfo Robiños, attended the hearing with their lawyers.
Other respondents Trangia, his mother Rosemarie, Arvin Balag, Mhun Wei Chan, Ranie Rafael Santiago, Danielle Hans Matthew Rodrigo, Joshua Joriel Macabili, Axel Munro Hipe, Marc Anthony Ventura, Marcelino Bagtang and Zimon Padro were represented by their counsels. – With Evelyn Macairan