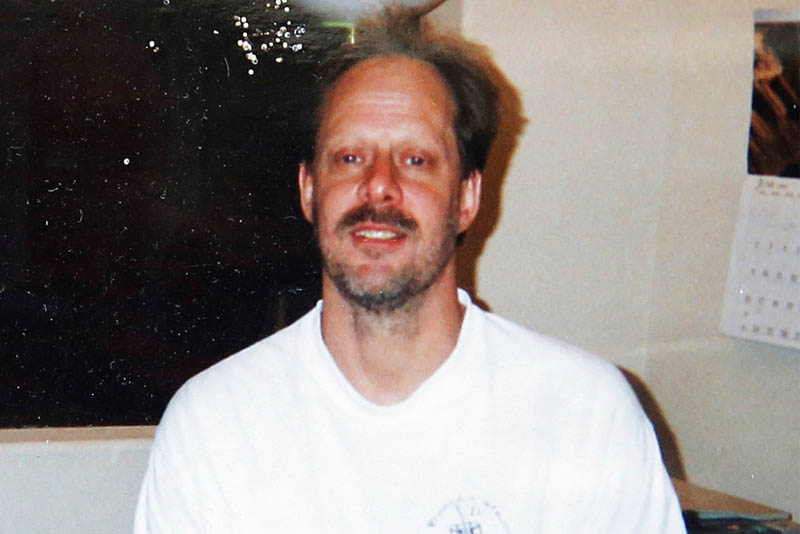 This undated photo provided by Eric Paddock shows his brother, Las Vegas gunman Stephen Paddock. On Sunday, Oct. 1, 2017, Stephen Paddock opened fire on the Route 91 Harvest Festival killing dozens and wounding hundreds. Courtesy of Eric Paddock via AP
Vegas gunman visited Philippines at least twice
(Associated Press) - October 4, 2017 - 12:16pm
MANILA, Philippines — A Filipino official says Las Vegas gunman Stephen Paddock traveled at least twice to the Philippines, where his girlfriend was born.
The official said Paddock visited the Philippines in 2013 and 2014, around his birthday, staying for five to six days on both occasions. There were no immediate details available about those trips.
The Filipino official was not authorized to discuss the trips publicly and spoke on condition of anonymity.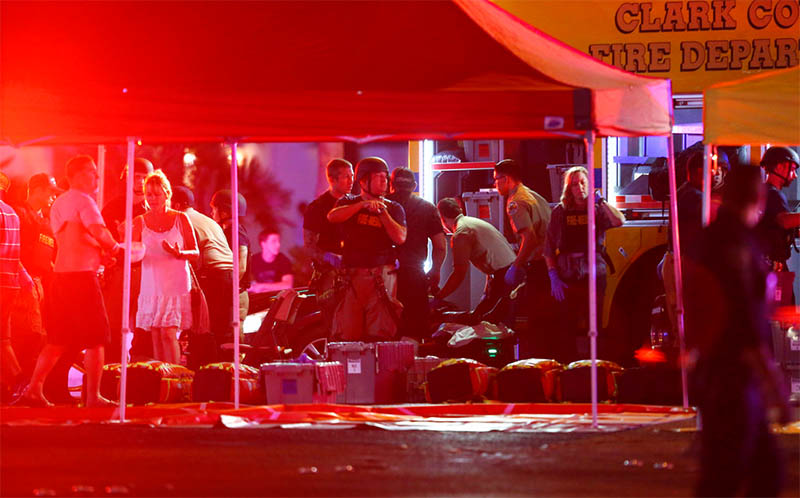 In this Sunday, Oct. 1, 2017 file photo, medics treat the wounded as Las Vegas police respond during an active shooter situation on the Las Vegas Strip in Las Vegas. Chase Stevens/Las Vegas Review-Journal via AP, File
Paddock transferred $100,000 to the Philippines in the days before the shooting, a U.S. official briefed by law enforcement but not authorized to speak publicly because of the continuing investigation told The Associated Press on condition of anonymity.
Investigators are still trying to trace that money and also looking into a least a dozen financial reports over the past several weeks that said Paddock gambled more than $10,000 per day, the official said.
As for what may have set Paddock off, retired FBI profiler Jim Clemente speculated that there was "some sort of major trigger in his life — a great loss, a breakup, or maybe he just found out he has a terminal disease."
Clemente said a "psychological autopsy" may be necessary to try to establish the motive. If the suicide didn't destroy Paddock's brain, experts may even find a neurological disorder or malformation, he said.
He said there could be a genetic component to the slaughter: Paddock's father was a bank robber who was on the FBI's most-wanted list in the 1960s and was diagnosed a psychopath.
"The genetics load the gun, personality and psychology aim it, and experiences pull the trigger, typically," Clemente said.
Immigration documents show Paddock's girlfriend, Marilou Danley, had been abroad for weeks and was in the Philippines on Sunday when Paddock opened fire on a crowd, killing 59.
A U.S. law enforcement official says FBI agents met Danley at the airport in Los Angeles late Tuesday night.
READ: Vegas shooter's 'companion a Filipino-Australian granny'
Centering on Danley
The Las Vegas gunman's girlfriend, back in the United States after a weekslong trip abroad, will be at the center of the investigation into the shooting deaths of 59 people as authorities try to determine why a man with no known record of violence or crime would open fire on a concert crowd from a high-rise hotel.
Stephen Paddock's girlfriend Marilou Danley, 62, who was in the Philippines at the time of the shooting, was met by FBI agents at the airport in Los Angeles late Tuesday night, according to a law enforcement official.
The official wasn't authorized to publicly discuss the matter and spoke to The Associated Press on condition of anonymity.
Sheriff Joseph Lombardo, who has called Danley a "person of interest" in the attack, said that "we anticipate some information from her shortly," and said he is "absolutely" confident authorities will find out what set off Paddock, a 64-year-old high-stakes gambler and retired accountant who killed himself before police stormed his 32nd-floor room.
Danley first arrived in the Philippines on Sept. 15, according to immigration documents there. She departed on Sept. 22 then returned three days later on a flight from Hong Kong. She was traveling on an Australian passport.
Philippines immigration bureau spokeswoman Antonette Mangrobang said authorities there had been working with U.S. officials.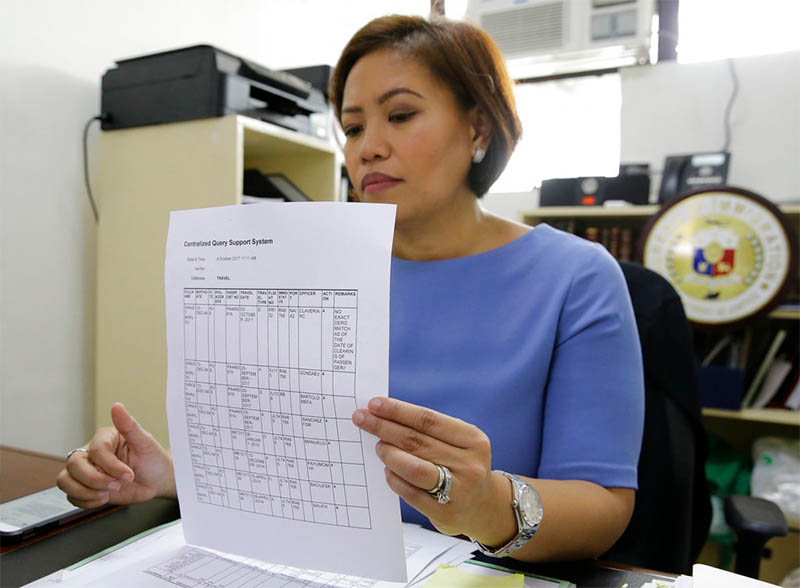 Philippine Bureau of Immigration spokesperson Attorney Ma. Antonette Mangrobang shows the travel records of Marilou Danley in Manila, Philippines on Wednesday, Oct. 4, 2017. AP/Aaron Favila
"From the very beginning, we have been providing them necessary information that would aid their investigation," Mangrobang said.
Danley's Australia-based sisters say they believe Paddock sent her away so she wouldn't interfere with his plans.
Australia's Channel 7 TV network interviewed the sisters with their faces obscured and their names withheld. They said they believe their sister couldn't have known about his ideas.
The woman said Danley is "a good person" who would've stopped Paddock had she been there.
One of the sisters, who live near Brisbane, Queensland, said they believed Marilou knew Paddock had guns, but not as many as he had.
"She probably was even (more) shocked than us because she is more closer to him than us," her sister said. — AP's Michael Balsamo and Ken Ritter in Las Vegas; Jim Gomez in Manila